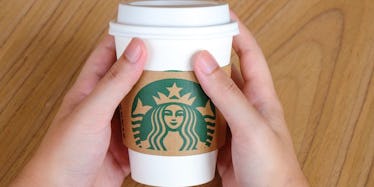 When Will Starbucks' Pumpkin Spice Lattes Finally Be Available? We Want Them Now
It seems like we've waited an eternity to hear any news about when Starbucks is planning to drop their coveted Pumpkin Spice Latte (PSL). OK, so it hasn't really been an eternity (it's only been since last fall), but that's not the point. The actual date of when Starbucks' Pumpkin Spice Lattes will be available is still under wraps, but that doesn't mean you can't get it somewhere else.
Starbucks just announced that two new PSL products are coming straight to your local grocery store. While you wait for fall's favorite drink to hit Starbucks, you can visit the grocery store and pick up a ready-to-drink PSL and a bag of delicious pumpkin spice flavored coffee grounds.
The ready-to-drink PSL bottle is perfect for those who just can't wait for the 'Bucks to release the real thing. The coffee grounds, on the other hand, work perfectly for the purists who enjoy brewing their own specialty coffee in the comfort of their own homes. Come on, how awesome is it not to make lines at Starbucks for your PSL? Just head to your kitchen and make exactly what your fall heart desires.
Ready-To-Drink Starbucks Pumpkin Spice Latte
You can expect to see this tasty drink by the end of August. The ready-to-drink PSL is made with Arabica coffee, nutmeg, clove spices, and creamy milk. In case you were wondering, yes, this drink is limited edition -- so stock up while you can.
Starbucks' Pumpkin Spice Flavored Coffee
The PSL flavored coffee will be available in grocery stores nationwide this fall, and you can expect a light roast coffee with hints of pumpkin, cinnamon, and nutmeg. The only thing missing is the cozy sweater, and you have yourself a perfect fall morning.
Call me basic, but I'm going to stock up on these before they run out. Hopefully Starbucks announces the release date of the in-store Pumpkin Spice Latte in the meantime.