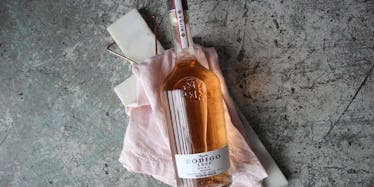 Rosé-Colored Tequila Is A Thing Because We Like To Have The Best Of Both Worlds
The Chalkboard Magazine
If you thought for a second that the millennial pink trend was going anywhere anytime soon, think again. The truth is, we can't get enough of the blush color and all its boozy byproducts (i.e. rosé). And more similarly-colored alcohol keeps emerging. Enter Pink Tequila by Código 1530. The pretty booze -- which is actually called Rosa -- has been on the U.S. market since 2016, but has recently gained traction because of super photogenic cocktail recipes on social media featuring the brand.
According to their website, Código 1530 Rosa starts with their traditional Blanco (white) tequila. They then age it for a solid month inside Napa Cabernet French White Oak barrels, naturally giving it that Insta-worthy pink hue and a floral Cabernet taste.
Just like traditional tequilas, the Rosa pairs well with lime. However, it's practically made for more colorful fruits like watermelon and strawberry.
In fact, Pressed Juicery created an extra delicious marg recipe using their Watermelon Lime Jalapeño Juice. Per the recipe posted on Código 1530's Instagram, it's easy to re-create and — dare I say — sort of healthy thanks to a generous serving of probiotics in the juice. Warning: Lots of spicy jalapeño flavor ahead.
What You'll Need
2 ounces Código 1530 Rosa tequila
3 ounces Pressed Juicery Watermelon Lime Jalapeño juice
3/4 ounce fresh lime juice
1/4 teaspoon jalapeño-infused agave
Fresh jalapeño, sliced (optional)
Kosher salt (as garnish)
How To Make It
Combine the tequila, Watermelon Lime Jalapeño juice, lime juice, and jalapeño-infused agave in a mixer. Shake well and serve it over ice in a kosher salt-rimmed glass. Garnish it with extra jalapeño if you're feeling it.
It's kind of a like a spiked wellness shot, and I appreciate it so, so much.
Código 1530 Rosa is currently available in 18 states and online. It retails for about $60.
Though it's not the cheapest option, it's worth the splurge when you consider all the pink cocktail possibilities. Plus, it'll look great next to your Wölffer Pink Gin.