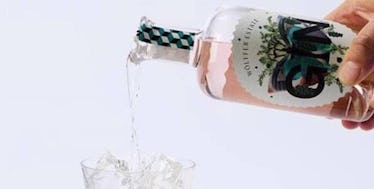 Prettiest Gin Ever Was Made With Rosé And It'll Make Your Cocktails Insta-Worthy
Courtesy of Wölffer Estate Vineyard
Regina George might only wear pink on Wednesdays, but happy hour fully embraces all pink everything, regardless of the day of the week. Hats off to rosé because it's definitely having a moment. As delicious as the drink might be, sometimes you're tossed between cocktails, yet you don't want to part ways with your go-to. If you're looking for a twist on your favorite summer order, Wölffer Pink Gin instilled with rosé let's you have your gin and drink it, too (while getting the millennial pink treatment, of course).
Wölffer Pink Gin is made out east on Long Island — aka my homeland and the location of Billy Joel — at Wölffer Estate Vineyard. Though pink gin is fairly common, given millennial pink's rise to fame, the Vineyard prides itself on taking a different approach to its bottles of pink goodness.
"Using the rosé wine as the base gives Wölffer a clear advantage over grain-based gins," the company said in a press release. "The aroma is much more playful and fruit-driven, all creating a fine gin."
To add to the rosé base are handpicked juniper berries from the vineyard, including fennel and cumin, among others. There's even a splash of mint in the bottle. Obviously, this is a must-try for the summer.
If you find yourself with a case of the munchies, there are plenty of ways to get the millennial pink treatment and enjoy the taste of rosé in any form. Take for example these rosé ice pops (better known as poptails). These sweet treats are the perfect way to celebrate the summer with a 21+ take on your favorite seasonal treat.
Candy lovers can take comfort knowing there is even rosé gummy bears, and I'm pretty sure you didn't see that on Willy Wonka. Ice cream, doughnuts, and cupcakes were all bitten by the rosé, so take your pick.
 If you're in need of the Pink Gin, grab a bottle here.  Drink pink, friends, and be safe.