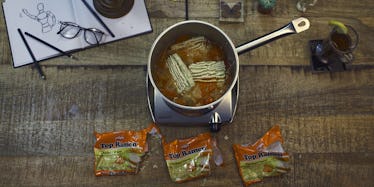 You Never Have To Stop Eating Instant Ramen – The World's Best Young Chef Says So
Elite Daily
A man checking into a four-star hotel with a roll of knives in his suitcase may be cause for alarm in many cases, but not this week.
Twenty chefs from 20 regions around the world ventured to Milan along with their mentors, a panel of judges and plenty of food lovers for the second annual S. Pellegrino Young Chef Competition, a contest which names the best professional chef age 30 or younger in the entire world.
It's the Olympics of cooking, if you will, and this year's Simone Biles, 30-year-old Mitch Lienhard, took home the Best Young Chef title.
To compete, finalists must prepare a signature dish in six hours, "Top Chef" finale-style, which is then presented to a panel of seven judges, made up of top chefs from around the world, who ultimately decide the fate of the talented up-and-coming chefs.
Dishes included a Scandinavian pork belly echoing back to the Viking era with mead BBQ, an air-cured mackerel with French potatoes, a sheep's milk cured in an artichoke to form a curd served with lamb ribs and many more artistically plated, impressively cooked dishes.
They're a true inspiration to those of us who congratulate ourselves for cooking the recipe out of a Blue Apron box mostly correctly.
Lienhard, who was mentored by the World's Best Female Chef Dominique Crenn, created a dish inspired by the smell of burning leaves in the fall in his native Michigan -- a roasted duck with spiced orange and yam that entranced judges with its aroma, and, clearly, its taste.
So what is this seriously overachieving 30-year-old bringing to the table?
I have this vision of simple food that's not overly complicated on a plate.
"I prefer the complicated processes to happen in the kitchen, really building on a flavor and doing various techniques and only putting the necessities on the plate," Lienhard says.
While many of his competitors' dishes showed off their skills with complicated plating and even more intricate serving (think infusing sauces live at the table), the haute cuisine flare may not be necessary for our generation's next great chefs.
Anyone who's ever pushed a clump of parsley off a restaurant plate can relate to Lienhard's philosophy.
"I try not to use any greens and herbs if I don't need to, if it's not detrimental to the flavor," he said. "So many chefs put green leaves all over things and they don't really add anything."
His motto:
Delicious first, beauty second.
We can get behind that, especially in the age of #foodstagram, when so many teasingly 'grammable dishes are disappointing once you actually stick a fork in them.
Lienhard is happy with what Instagram has done for the cooking community, connecting chefs globally, letting everyone see trends as they happen and exposing foods for what they really are.
Diners shooting (and maybe filtering, fine) their dishes rather than chefs just showing a styled, staged photo of a dish is so much more authentic.
Lienhard predicts that Middle Eastern cuisine and Indian flavors will be the next big food trends.
Another exciting trend prediction: Food is getting fattier... in a good way.
"For the last 10 years it's been all about herbs and delicate, foraged ingredients, and now I think people are really desperately wanting some butter and cream."
Yes to that.
When he's home, Lienhard likes making roasted chicken, which he brines and dries covered overnight so the skin loses moisture and gets crispier. He then stuffs it with herbs, garlic and lemon, roasts it at high heat and takes it out often to baste the bird with butter.
If this is the future of Millennial cooking, we're looking at a tasty generation.
If that seems intimidating to you, know that Lienhard, who is officially more accomplished in cooking than anyone born after 1986, eats a lot of ramen.
And yes, that's dorm room ramen (as well as restaurant ramen, but, still).
"You could be sick to your stomach and ramen would still be delicious," he said of the tried and true hangover cure, outing "99% of chefs in the world" who eat instant ramen, though most won't talk about it.
And there's no fancy packaged ramen Lienhard is loyal to, nor does he have Kylie Jenner-levels of adoration for Top Ramen.
"I'm not very discriminatory when it comes to ramen," he laughs, an equal opportunist for all ramen brands.
Since being crowned (OK, there's no crown, but there is a big bottle of Ferrari prosecco) Best Young Chef on Saturday, October 15, Lienhard has not yet decided how he'll use the title.
He is still chef de cuisine at a three-Michelin-starred restaurant, after all, but he plans to travel and perhaps collaborate with some of his fellow competitors in the coming year.
In celebration of his win, Lienhard sabered open a bottle of Veuve Clicquot, dramatically smashing the glass to let the pink bubbles pour out in triumph.
Champion chef or not, this should probably be how all of the under 30 set celebrates anything.