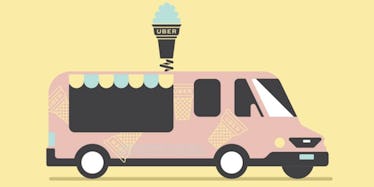 These Uber Ice Cream Trucks Will Come To You And Give You Free Ice Cream
Uber
Screaming for ice cream is about to get a whole lot easier with a little help from Uber. The ride sharing app has revamped its sixth-ever Uber Ice Cream Day, dubbing it Free Cone Fridays. Translation: here's how to get free ice cream from Uber for the next six weeks. Literally.
On Fridays throughout the promo — which starts Aug. 11 — you'll be able to select UberICECREAM in the app. Once you hit request, if you're matched, Uber will send a branded ice cream truck to your location and give you (and up to four friends) free ice cream. They'll also give you one limited edition silicone cone, which you'll then be able to use for another free soft serve refill at McDonalds on Fridays through Sept. 22.
If you're not matched, keep trying. According to Uber's website, the limited edition cones are expected to go fast. You wouldn't want to miss out on delicious McDonalds soft serve, would you? Now that the fast food chain's soft serve contains zero artificial flavors, colors, or preservatives, there's even more reason to crave a weekly fix.
In a press release announcing Free Cone Fridays, Uber said the sweet deal will run in major North American cities including Atlanta, Boston, Dallas, Los Angeles, Miami, New York City, San Francisco, Seattle, and Washington D.C.
Should you miss the opportunity to snag a collectible cone via Uber's trucks, Uber Greenlight Hubs will reportedly be giving them away during ice cream socials on Thursday, Aug. 10.
I would just like to reiterate that free ice cream is on the horizon, you guys!
Tell everyone you know, and prepare to have your Uber app open promptly at 11 a.m. on Friday, Aug. 11, to boost your chances of snagging a golden ticket collectable cone.
Now, locate the nearest McDonalds for that inevitable refill.