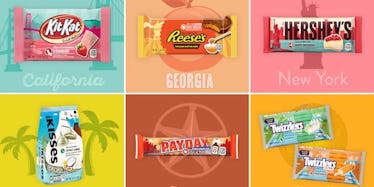 Hershey's New Flavor Collection Will Make Your US Road Trip Sweeter Than Ever
Hershey's
Luggage? Check.
Map? Check.
Hershey's bars? Check!
America's favorite chocolate conglomerate is making the road trip season a bit sweeter this year, so make sure you save room in your suitcase for a bunch of new pit stop pick-me-ups.
Hershey's just announced the release of its limited-edition "Flavors of America" collection, and it features a twist on classic treats with a state-inspired theme. If you're going to make your way from coast to coast, these goodies are just as essential as a fun playlist.
Of course, I'll be keeping one of these tasty snacks in my cupholder when I need to refuel.
Why don't we break down some of the offerings?
Let's start with the Empire State...
No trip to New York is complete without a piece of cheesecake, of course.
When you can't indulge in the Big Apple's favorite dessert, pick up this Hershey's bar for a fix. It'll keep you satisfied until you place your order at Junior's.
Now let's make our way to the west coast...
Long before Coachella was in the picture, the California Strawberry Festival was the event that defined The Golden State (and you don't have to wear a thong on your head to fit in).
The Kit Kat's white chocolate take on the strawberry fest is a refreshing change for the wafer, and it's as necessary as your trek across the Golden Gate Bridge.
Do the Red Hot Chili Peppers proud and get your Cali pride on with these fun snacks.
... but not before heading down south.
Yeehaw! The Texas "Flavors of America" selection is arguably the most adventurous.
Who heads down south and doesn't fill up on some BBQ? No one.
Hershey's channeled that meat-loving vibe with its Payday bars. Chocolate and BBQ — now there's an idea.
There are also several other options, such as honey-flavored Reese's for Georgia, coconut Kisses for Hawaii and Key Lime Pie and and citrus Twizzlers.
Get yours before your next road trip while supplies last.
Citations: The Hershey Company Releases New, Limited-edition Collection Inspired By 'Flavors Of America' (Hershey's)