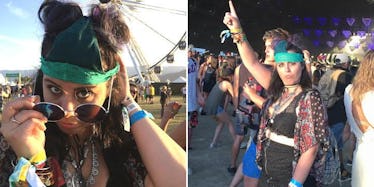 I Wore A Thong On My Head At Coachella And Literally No One Noticed
Elite Daily
Ah, Coachella. There's nothing I love more than dancing in a desert surrounded by fit and gorgeous women who make me question my self-worth.
I was able to attend the music festival in Indio, California, this weekend and it was everything I dreamed it would be and more: sheer-covered butt cheeks and stoned, shirtless men rolling around in a field of dust.
I felt at home, honestly, even if I was way too ugly to be there. I didn't wear a flower crown, but I had $7 neon sunglasses from H&M's Coachella line, so you could say I went all out.
As someone with a sophisticated taste in music (CHEETAH GIRLS, FTW), I was more interested in taking cool Instagram pics than tripping on acid and hitting strangers in the face.
I wanted a new pro pic, you guys, and I wasn't going to leave that damn Ferris wheel backdrop until I got one.
As I looked around and saw the gorgeous Instagram bloggers with boho braids, floppy hats and body chains, I thought about the festival trends they were rocking and­ I lacked.
Therefore, I decided to do what any sane person would do: I took out a cute, lacy thong and wore it on my face as a headband.
#Coachella #FestivalLife!!!!!!
Yup, it's true. I am a flower princess.
Honestly, I did it for like .2 seconds as a joke, but then I got really into it. Could I really wear a thong on my face all weekend and have no one notice?
LMAO, YA.
Coachella is great because you can wear LITERALLY ANYTHING on your body and it'll somehow blend in. Butterfly wings? Check. Bunny ears? Yaas. Underwear on face? SOUNDS EFFIN' SEXY.
I posted about my new festival trend on Twitter in case anyone wanted #fashioninspo and it looks like people were super into it.
I'm not trying to toot my own horn *toot toot* but this idea was Instagrammable AF. LOOK AT HOW CUTE I AM.
I frolicked in the fields with lingerie draped over my eyelids and looked like the outtakes of a sweet, low-budget porno.
I even wore it as a bandana 'cause IDK, it was badass and hot.
Everyone thought I looked like Kendall Jenner except this guy, who--not gonna lie--raised a great point.
People either ignored me because they were intimidated by my beauty OR because if they looked in my direction, their eyes would bleed.
At the end of the day, I knew who I was: A sad, worthless piece of shit trying to mask my pain and insecurities with a clever joke please help me I have no friends festival girl!!!!!
Coachella, it's been real. Thanks for letting me wear underwear on my head, even if this idea will get me fired from my job and I'll never date boys again.