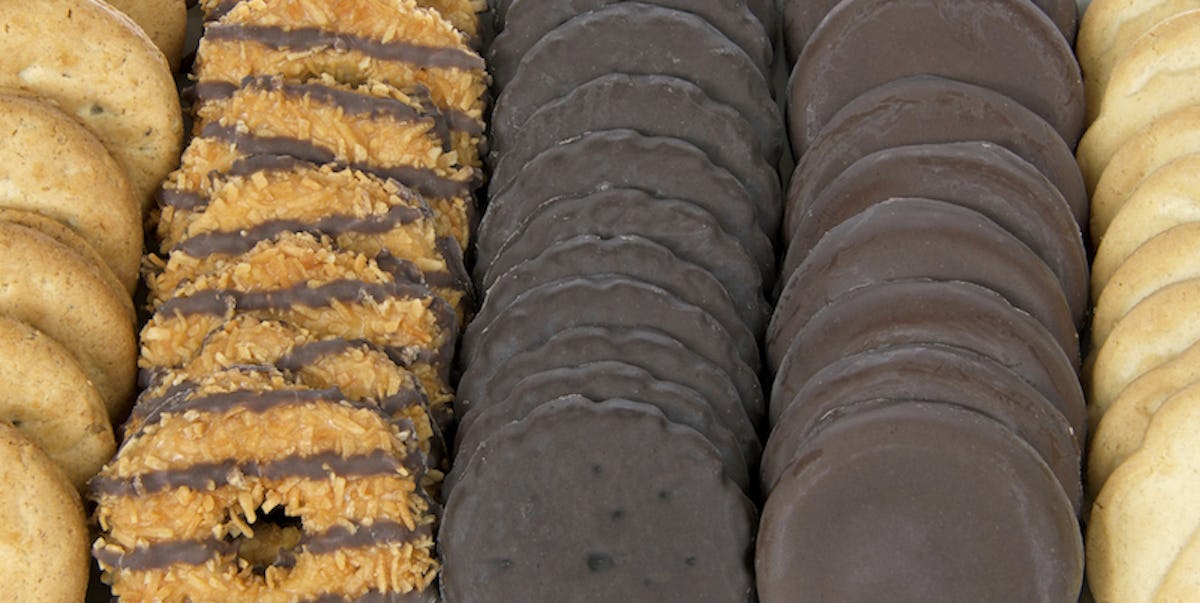 Girl Scout Cookie Cereal Is Coming, So You Can Eat Thin Mints For Breakfast
Shutterstock
I could easily live off cereal, and I'm not afraid to admit it.
If you know me, you're aware of my recent infatuation with Peanut Butter Puffins. I'd eat that stuff for breakfast, lunch and dinner if I could.
But it looks like I'm about to have a new favorite box in my cabinet because Girl Scout Cookie cereal is about to be a thing.
Yep, you read that correctly: GIRL. SCOUT. COOKIE. CEREAL.
I can barely contain my excitement.
According to Refinery 29, the Instagram account Candy Hunting made the miraculous discovery after coming across stock photos of the Girl Scout Cookie cereal boxes.
Thrillist then contacted General Mills to make sure we weren't being punk'd, and it confirmed the release that is allegedly being set for January 2017.
What an incredible way to start the new year, right? After the Girl Scouts and Pillsbury teamed up to make cupcake and brownie mix, we didn't think it could get much better.
Now, we're just plain SPOILED.
Apparently, the two new flavors will mimic the most popular Girl Scout Cookies: Thin Mints and Samoas (which will go by the name of Caramel Crunch).
CAN THIS GET ANY BETTER?
When these bad boys are released in January (the beginning of Girl Scout Cookie season), I'm going to buy at least five boxes. You have to stock up, right?
I know you're all dying to find out what they look like, so here you go.
Thin Mints Cereal, everyone.
Here's Caramel Crunch Cereal (aka Samoas, aka my favorite).
That's not where the surprises stop, though.
In case you were unaware, the Girl Scouts have even more in store for us in 2017.
Apparently, a new flavor is going to be released that every camp fire-loving guy or gal will enjoy: S'mores.
Are you excited? Because I am.
January keeps looking tastier and tastier. Plus, I can finally make my New Year's resolution to eat cookies for breakfast every day, and I don't even have to feel bad about it!