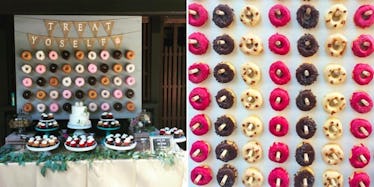 Doughnut Walls Are The New Wedding Cake Your Guests Will Thank You For
InstagramInstagram
If you're looking for the sweet way to celebrate the day your bae finally puts a ring on it and makes you his wife, you came to the right place.
There's a new wedding food fad that's guaranteed to sweep your off your feet (by making you high as a kite on sugar, of course!).
Behold, the glorious doughnut wall.
That's right. As nontraditional wedding treats continue to surge in popularity, we've seen a growing number of dessert tables that ditch the classic white cakes and cupcake towers for a dazzling display of doughnuts.
Because, let's be real, nothing says love like a wall covered in doughnuts.
Whether you deck your wall out in elegant white donuts, opt for some sweet sprinkles, suspend your glazed goodies from hooks or arrange your sweets on shelves, there are all sorts of ways you can blow your guests away with this insanely cool dessert craze.
Check out the pictures below to see this tasty wedding trend.
If you thought those sparkly geode cakes were the coolest thing to happen to wedding confections...
You clearly haven't seen the latest sweet trend sweeping over the wedding scene.
Feast your eyes on the almighty doughnut wall.
As more brides decide to walk down the nontraditional aisle...
We've seen an increasing number of dessert tables that upstage the classic white cake...
With a delectable wall that's clearly not afraid to put a ring on it.
A glazed doughnut ring, that is.
Whether you opt for some classic white confections...
Display your doughnuts in a lovely arrangement...
Brighten up your big day with some colorful, sprinkle-clad snacks...
Set your sweets up on some sugarcoated shelves...
Or hang your desserts on some rustic hooks...
These dazzling doughnut walls are guaranteed to make you fall head over heels.
Or, at the very least, they'll make you pretty damn hungry.
Seriously, you doughnut want to miss out on this tasty wedding trend.
Citations: Doughnut Walls The Wedding Trend We Can All Get Behind (Metro UK)