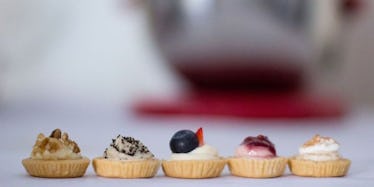 This Shop Dedicated To Cream Cheese Is The Answer To Your Bagel Obsession
Courtesy of Becky's Bites
If there's one "sport" I take seriously, it's walking ... to the nearest brunch spot for some carbs and cream cheese.
Savory omelettes, dishes that are mistaken for desserts, and good old-fashioned bagels are the key to my heart on Saturday mornings.
So naturally, when I found out a cream cheese speciality shop was slated for a summer opening, I made a beeline to the freezer to ensure my favorite bagels (cinnamon raisin) were ready for the occasion.
Bagels are as essential to New Yorkers as water, it's no surprise the cream cheese-lovin' shop is headed for the East Village. Becky's Bites, we welcome you with open arms and hungry stomachs.
Founder Becky Rosenthal is just as excited to spread the love as we are.
"Our menu offers everything in bite-sizes, which makes it a perfect treat for sharing or even being able to experience different flavors or desserts all in one sitting," Rosenthal tells Elite Daily. "How many times have you gone to a restaurant and wanted just a bite of everything on the menu?"
When you visit, get ready for an assortment of cream cheese to put on your bagels, parfaits, and cookie sandwiches. Coffee runs through every Manhattanites' bloodstreams, so Becky's Bites will also treat us to a dose of caffeine. The assortment of cream cheese from the shop is all hand crafted in New York's Hudson Valley.
"We want people to feel welcomed and nostalgic, connecting to a modern but retro spin on the Dairy Farm and cream cheese being an important staple of every household," Rosenthal added.
What's even better is that we're going to be in for a taste of the unexpected, since the inspiration behind the shop came from Becky's creation of the chocolate-dipped cream cheese bites.
"The first Becky's Bites, which were chocolate-dipped cream cheese based treats, happened completely by happenstance," Rosenthal admits.
She also tells Elite Daily,
One night I was playing around in the kitchen looking for something quick, bite-sized, and delicious and created these treats that were so unique that they even took me by surprise! It wasn't until a few years later that my husband and business partner, Richard, and I saw the true potential of the product — the flavored spreads.
There's certainly a lot to look forward to besides the chocolate-dipped cream cheese, though.
"Our tiny tarts, mini cookie sandwiches, and dipped chocolates all with our fun and unique cream cheese spreads gives you the opportunity to [try everything]," Rosenthal said. "We are also putting our own twist on beloved classics like s'mores with chilled toasted marshmallow and chocolate chip cream cheese and, of course, graham crackers to dip, as well as childhood favorites like our "Beckaroos" (which is a play on Dunkaroos)."
However, if you want to visit, you'll have to wait until later this summer for a grand opening.
While you're in the neighborhood, there are plenty of other speciality stores in New York that you can sink your teeth into, like the first-ever avocado bar, the ice cream shop dedicated to edible cookie dough, or the ice cream barlour that serves up liquor-infused sundaes. 
New Yorkers dream big, especially when it comes to food, so there's no telling what exactly you're in for when you walk down the street. Either way, we'll see you on the cream cheese line.