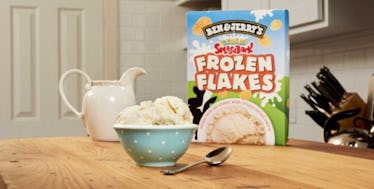 Ben & Jerry's Releases New Cereal-Inspired Flavors, But Forget The Best One
Ben & Jerry's
OK, I'm a little salty about this because I spent most of college adding cereal to ice cream for late-night snacks. I had no idea I was actually a genius and not just a fatass.
It's fine, I guess. I'm sure Ben & Jerry's does it way better than I ever did.
On March 7, the ice cream company released a lineup of the new breakfast-inspired flavors, collectively called Cereal Splashbacks, and wow do they sound amazing.
In the wise words of Britney Spears: Gimme, gimme more. GIMME MORE.
The new lineup includes three flavors based on your favorite childhood breakfast cereals.
1. Fruit Loot
2. Frozen Flakes
3. Cocoa Loco
So, why add cereal to ice cream?
(Seems like a stupid question if you ask me, but Ben & Jerry's has an answer for us anyway!)
Flavor Guru, Eric Fredette, said in a statement,
The sweet milk at the bottom of a cereal bowl is arguably the best part. We wanted to take our flavor concepts and make people feel like a kid again, which is how we landed with our Cereal Splashback flavors. There's a flavor for every fan that will help bring them back to the prize-at-the-bottom-of-the-box days, watching Saturday-morning cartoons in pajamas.
Nostalgia's great, and dude's right: The milk at the bottom is ALWAYS the best part of a bowl of cereal.
But I'm starting to feel concerned. Is it bad that I'm 23 years old and I still regularly enjoy a bowl of cereal on a Saturday morning?
No need to answer that now. We can come back to that later, since I have an even bigger concern to address.
As delicious as the above three flavors look, WHERE IN THE HELL IS OUR CAP'N CRUNCH-INSPIRED ICE CREAM?!
Seriously, Cap'n Crunch is and was the go-to breakfast cereal for kids (and me because, I stress again, cereal is still a very regular snack/meal for me, and you can't make me feel bad about it).
Consider this article my desperate plea to Cap'n Crunch and Ben & Jerry's to collaborate to make this delicious concoction ASAP!
Citations: Ben & Jerry's Just Released New Cereal-Inspired Flavors (Real Simple)