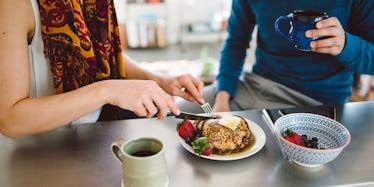 9 Healthy Spins On Your Favorite Pancakes That Are Perfect For A Lazy Fall Sunday
Whether you follow a strict meal plan or you simply follow your gut, there's always wiggle room for indulgence, and the weekends especially call for a delectable pancake breakfast. Of course, there's really no getting away from the fact that sugary syrups, globs of butter, and high fat content don't exactly make you feel great after you're done eating. But there are plenty of sneaky ways to beat the system with healthy pancake recipes that are not only good for you, but taste even better than you could imagine.
While you're at it, forget the people who say pancakes aren't healthy. You don't need that kind of negativity in your life. Considering how many food allergies are popping up these days, and trendy ways of eating that eliminate this and that ingredient, recipe alterations are necessary for every dish. When you take advantage of the literal millions of recipes the internet has to offer, there's a pancake for everyone and every dietary need.
Just ask SoulCycle CEO Melanie Whelan, who makes sure to balance bike-life and Sunday treats. She recently told Grub Street,
Sunday breakfast is a family tradition. Whether we're in the city or the Hamptons, we always make pancakes together on Sunday. This week was chocolate chips, and my daughter, Charlotte, was very strategic about the location of each chocolate chip in each pancake ("princess smiles"). We also made happy trail mix, a family staple, which is Honey Nut Cheerios, Apple Cinnamon Chex, raisins, dried cranberries, coconut strips, and chocolate chips.
Food is meant to be enjoyed -- especially breakfast -- but if you want to keep your healthy streak alive throughout weekend indulgences, I hear you. Give the following recipes a try for a healthy pancake that tastes just as good as it'll feel for your body.
1. Rainbow Pancakes
Don't be fooled by the label; this recipe requires zero artificial colors.
Blogilates founder Cassey Ho put together this Insta-worthy stack's base by using banana, coconut flour, oat flours, and baking soda. For filling, each pancake features a layer of Greek yogurt garnished with fruit.
If not for the sake of a healthy tummy, do it for the 'gram.
2. Two-Ingredient Pancakes
Sunday mornings are meant to be lazy, so I won't fault you for sticking to this basic recipe in order to curb your pancake craving in a hurry.
The two-ingredient pancake list is as follows: one ripe banana, two eggs. It doesn't get much simpler than that. Mash up the banana until it reaches a consistency similar to baby food, and whisk in the eggs. Cook like you would traditional pancakes, and you're golden.
If this is too bland for you, spice things up with cinnamon, nutmeg, a sprinkle of chocolate chips, or a splash of vanilla extract.
3. The Mug Pancake
Is it just me or does everything taste better when cooked in a mug?
This recipe's great if you're cooking for one, or just not interested in sharing (I won't judge). All you'll need is one banana, oat flower, one egg, cottage cheese (for texture and added protein), and cinnamon. Of course, as is the case with any pancake mix, it's easy to make it your own and add some other finishing touches, like protein powder, fruit, and spices.
4. Matcha Batter Pancakes
Just in case you're simultaneously craving a short stack and a matcha latte, here's an all-in-one option you can try.
Food blogger Caitlin Shoemaker comes in clutch with this trendy tea-induced batter. The recipe is simple, calling for one banana, oat flour, earl grey tea, matcha powder, and almond milk.
The end result is a light green mountain of not-at-all silver dollar pancakes that are totally worthy of an Instagram upload.
5. Healthy Cookie Dough Pancakes
Is there really such thing? According to Liv B's mouthwatering, safe-to-lick-raw recipe, there really is.
The good-for-you pancake recipe is fairly easy to put together through morning grogginess, but because this one requires two steps (part pancake, part dough), you might want to sip a cup of coffee or tea through the process.
One bite is sure to convert those who believe vegan dishes can't be delectable.
6. Quinoa Pancakes
When your parents live in Vermont, it's almost impossible not to experience the perfect pancake.
Simply Quinoa founder Alyssa drew inspiration from the maple syrup state and her own vegan genius to create a stack of blueberry quinoa pancakes that balance fluff and flavor flawlessly. The secret, she says, is coconut flour.
7. Gluten-Free Protein Pancakes
For all my #FitGirls out there, this one à la Sarah's Day is for you.
This Aussie blogger is all about meeting her protein goals, and if you're one of those no-days-off athletes who enjoys her Sundaze post-workout, here's a that recipe has a ton of protein essential for muscle recovery.
Key ingredients include protein powder, egg, almond meal, baking powder, and salt.
8. Sweet Potato Pancakes
Personally, I'll eat anything that is made from or tastes like sweet potato. Combine my favorite orange vegetable with a stack of fluffy pancakes, and I'm sold.
Sweet Potato Soul's recipe makes healthy taste downright heavenly with spelt flour, brown sugar, nutmeg, and cinnamon thrown in the mix. It's a great option for Sunday breakfast, brunch, and you'll definitely want to save any leftovers for a quick breakfast-for-dinner.
9. The Paleo Pancake
If you're one of my paleo peeps, Tiffany Lyman's pancake recipe is right up your alley. The formula for paleo perfection here is a combination of egg, nut butter, two bananas, coconut oil, cinnamon, and raw honey.
Eat up, friends!