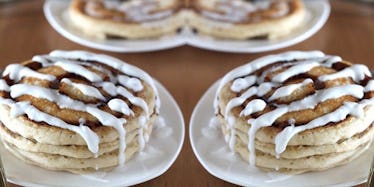 25 Delicious Ways To Make Vegan Versions Of Your Favorite Foods (Photos)
Recipe: Vegan Yumminess
A few years ago I decided to ditch the meat and go green.
While it may sound easy, I can tell you first hand sticking to a diet that doesn't let you eat animal products can be pretty challenging.
Especially when you have assh*le roommates who come home with glorious, pepperoni-laden pizzas almost every day after you vow to go vegan.
Unfortunately, pizza won out in the end and my vegan endeavors didn't last very long.
But if you're disciplined enough to resist the temptation of cheese, adopting a plant-based diet comes with a myriad of health benefits ranging from weight loss and disease prevention to increased energy and even a more youthful-looking appearance.
I know, eating plants all day doesn't sound very fun, but it turns out you can actually stick to a vegan diet without giving up all of your favorite foods for a sad bowl of kale and some insufferable tofu.
Yeah, if only I had known this back then.
All you have to do is get a little creative and vegan-ize your dishes by substituting in some plant-based alternatives.
So we set out to find a bunch of mouthwatering vegan dishes for every meal of the day that taste so damn good, you won't want to go back to eating meat ever again.
Take a look at the pictures below to see vegan versions of your favorite foods.
Tofu Breakfast Scramble
Cinnamon Roll Pancakes
Peanut Butter and Banana Overnight Oats
Vegan S'mores Waffles
Blueberry Muffin Breakfast Bake
Homemade Strawberry Poptarts
Vegan Pumpkin Spice Latte
Vegan Pizza
Vegan Mac and Cheese
White Bean and Mushroom Meatball Sub
Vegan Coconut Curry
Vegan Burrito Bowl
Cauliflower Buffalo Wings
Veggie Quinoa Sushi
BBQ Cauliflower and Chickpea Tacos with Creamy Lime Slaw
Creamy Red Pepper Alfredo Zoodles
Vegan Buffalo Burger
Vegan Mozzarella Sticks
Spinach and Artichoke Lasagna Roll Ups
Ceasar Salad with Avocado and Garlic Croutons
Chocolate Chip Cookie Ice Cream Sandwiches
Homemade Vegan Nutella
Snickerdoodle Cupcakes
Peanut Butter and Chocolate Blondies
Vanilla Bean Cheesecake