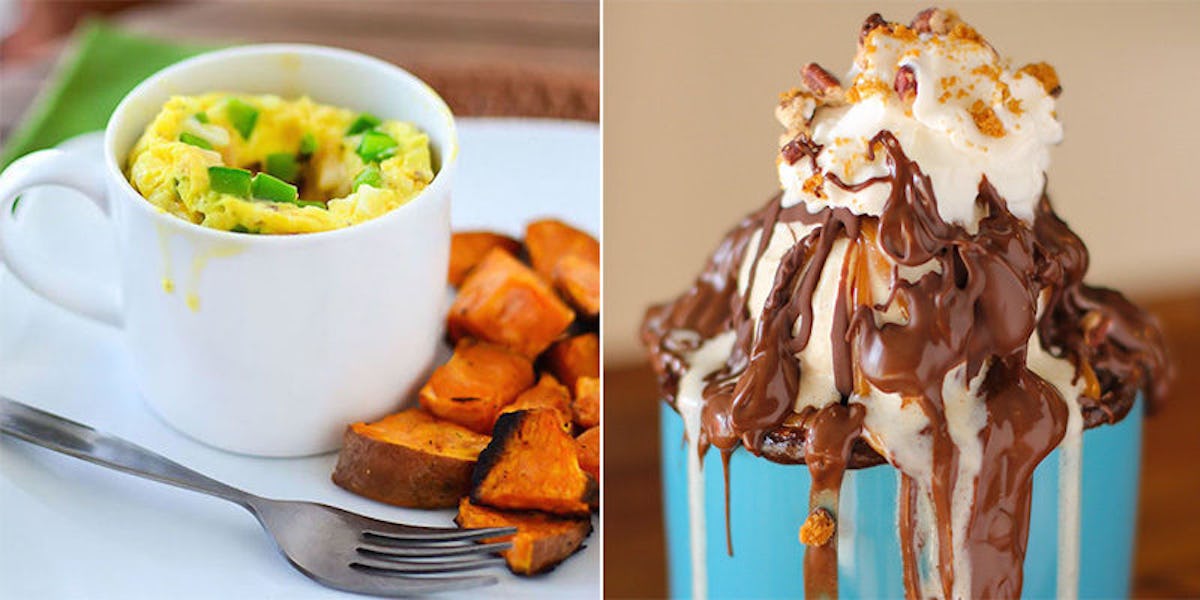 20 Super Easy Microwavable Mug Meals For The Lazy Chef In All Of Us (Photos)
Just Put Zing/Willow Bird Baking
If you're not a big fan of cooking, making dinner every night can be a time-consuming pain in the ass.
I mean, seriously, when I get home after a long day at work I'm usually feeling pretty lazy, not to mention hangry AF.
So the last thing I want to do is stand over a hot stove and attempt to make a mediocre meal without starting yet another fire in my kitchen.
Yep, when it comes to making your own food, the cooking struggle can be very real.
But it turns out you can actually make tons of delicious meals in minutes without even having to touch your stove or turn on the oven.
And no, I'm not talking about whipping up a bowl of cereal or a sad PB&J sandwich -- I'm talking about mug meals.
That's right. All you need to cook like a five-star chef is a mug, a microwave and a little imagination.
From omelettes and pancakes to pizza, pasta and delectable desserts, there are all sorts of mouthwatering mug recipes out there that will make all your lazy, hungry dreams come true.
We set out to find a bunch of insanely easy and delicious mug recipes to help you step up your cooking game (with minimal effort, of course!).
Take a look at the pictures below to see a bunch of drool-worthy microwavable mug recipes.
Paleo Mug Cinnamon Roll
Omelette In A Mug
Maple Syrup Pancakes In A Mug
Sweet Potato Hash In A Mug
Blueberry Muffin Mug Cake
Huevos Rancheros Breakfast Mug
Egg Fried Rice
Spinach Ricotta Lasagna
Spinach, Chickpea And Feta Pasta
Pizza In A Mug
Mug Mac & Cheese
Chicken Pot Pie In A Cup
Brown Rice With Edamame And Pineapple
Salted Caramel Apple Spice Mug Cake
Caramel Brownie Mug Cake Sundae
Funfetti Mug Cake
Chocolate Nutella Mug Cake With Strawberries And Coconut Cream
Red Velvet Mug Cake
Snickerdoodle Mug Cake
Peanut Butter Chocolate Chip Mug Cake