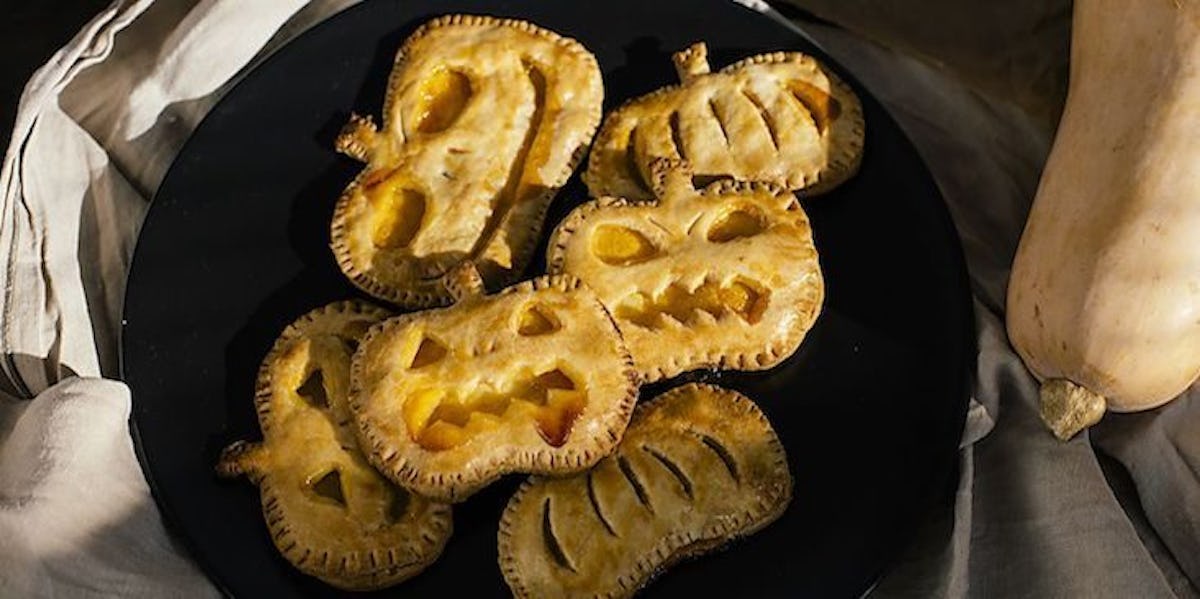 9 Foods That Automatically Taste Better When They're Shaped Like Pumpkins
The way I see it, fall has a kind of fairy godmother effect on food: When the clock strikes midnight on Sept. 1, everything turns to pumpkin spice until the day after Thanksgiving. Foodies rejoice at the aroma of PSLs and stock up on pumpkin delicacies to (hopefully) last them all the way through spring. Pumpkin isn't a downgrade from summer treats; it's a flavorful upgrade to accommodate all things autumn and #basic. Really, the only thing better than food that tastes like pumpkin is pumpkin-shaped food.
Of course, there's a clear divide between pumpkin heads who will try anything PSL flavored, scented, even color-coordinated, and those who see campaigns for pumpkin spice deodorant and think to themselves, "This has gotten way out of hand." I'll admit, we've definitely gotten to the point where you name it, there's a high probability it's been pumpkin-ized. But aside from candy apples and cider, can you honestly think of anything more festive for Halloween than giving out pumpkin-shaped Reese's chocolate to trick-or-treaters, or serving individual pies in the shape of jack-o-lanterns? I certainly can't.
Finalizing your Halloween party treats doesn't have to be so tricky. Give the people what they want -- aka pumpkin -- and if you're feeling particularly festive, serve these pumpkin-shaped foods to upgrade any spooky soirée.
1. Rice Krispies Treat Pumpkins
Your favorite childhood cereal snack bar is snapping, crackling, and popping with a pumpkin twist these days.
Even though making rice krispies treats from scratch can be a sticky pain in the ass, taking a bite of oozy marshmallow coated with the cereal our moms served us when we were little feels sinfully sweet.
And, just in time for Halloween, Kraft issued this white chocolate pumpkin rice krispies treats recipe that calls for a ton of marshmallows, white chocolate pudding, and orange food coloring.
2. Deviled Egg Pumpkins
Healthy meets Halloween!
I cannot handle how cute these pumpkin-shaped deviled eggs are. Great for a festive breakfast treat or party appetizer, this creative platter is an egg-cellent way to have your pumpkin treat and stay healthy, too.
3. Pumpkin Pasta
While browsing the shelves at Trader Joes this weekend, I came across a bag of butternut squash pasta shaped like pumpkins, and my heart may or may not have stopped for a brief moment.
If there's anything better than pumpkin-shaped food, it's pasta noodles shaped like miniature pumpkins. While I'd highly advise you to shamelessly drown each piece in warm, spaghetti squash cream sauce, I'm also in favor of topping this patch with pesto for a hint of green with your orange.
4. Pumpkin Cheese Ball
If Halloween costume parties can be cheesy, the hors d'oeuvres should follow suit.
For a festive snack that doubles as an appetizer table centerpiece, this pumpkin-shaped cheeseball will undoubtedly steal the show (and end up on a few Instagram accounts by dinner). A combination of cheeses and spices, the ball gets its orange coloring from crushed nacho cheese chips. Genius and tasty.
5. Pumpkin Dinner Rolls
If you're looking for a piece of bread to dip in your pumpkin-shaped pasta, stick with the theme and go for pumpkin-shaped dinner rolls.
Pro tip for maximum deliciousness: Cut open the top of the roll, carve out the doughy center, spoon in a few pasta shells, and take a snapshot for social media. It may be extra, but isn't that the point of Halloween?
6. Grilled Ham and Cheese Pumpkins
In my opinion, ham and cheese toasties are highly underrated, and these pumpkin-shaped sandwiches are a perfect fall lunch option.
Add a side of tomato soup or salsa for dipping, and you have yourself a well-balanced, seriously tasty meal.
7. Pumpkin-Shaped Chocolate
The only thing that could possibly enhance the pumpkin-shaped version of this chocolate treat would be if it actually tasted like pumpkin, but Twitter user @PuckTheWhat isn't wrong: The plump shape of this treat definitely packs more peanut butter per punch.
8. Pumpkin Pie Pop Tarts
Recipe Girl's artisan DIY pumpkin pie pop tarts are super sweet (literally and figuratively).
Impress your Halloween party guests with these individual pies over slices so that they can experience a balanced proportion of crust and filling in every single bite.
9. Pumpkin Cake Pops
'Tis the season to have your cake and make it pumpkin, too!
Go the extra mile and whip up a batch of pumpkin cake pops for your party guests to take with them at the end of the night. After all, Halloween is for indulging in all the sweet stuff, and I can't imagine a better way to top off the night than with homemade munchkins on a stick.