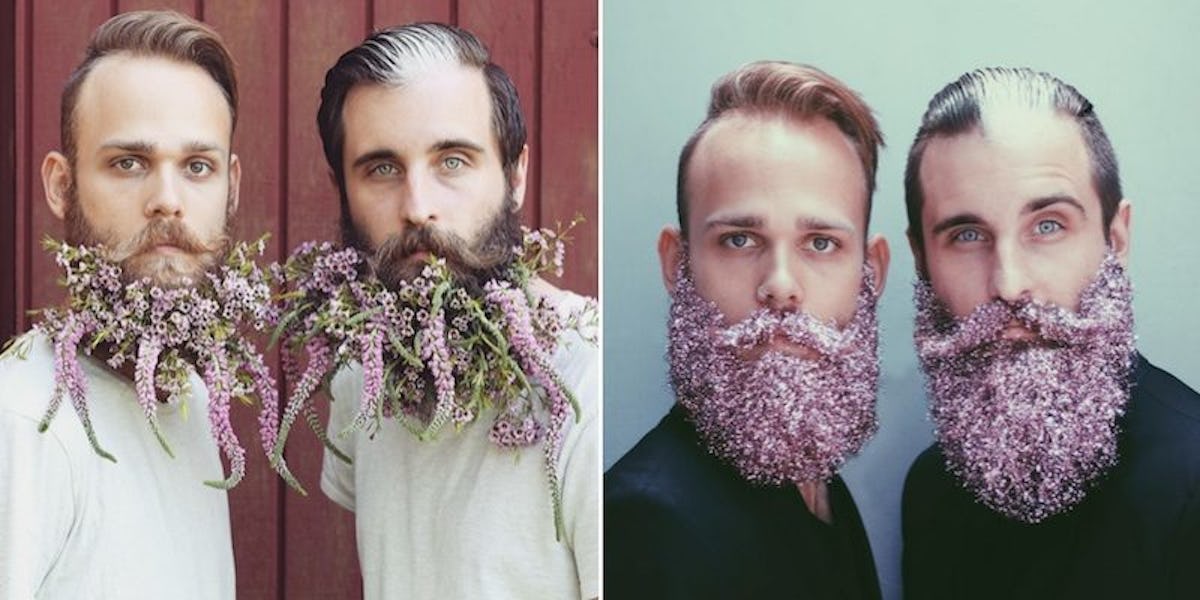 Two Best Friends Transform Their Beards Into Awesome Art On Instagram
Normally, I think the whole lumbersexual/beard craze is a bit overplayed, but even I have to admit this is great.
I'm referring to The Gay Beards, an Instagram account dedicated to — you guessed it — beards.
Created by lifelong best friends Brian Delaurenti and Johnathan Dahl, the account features photographs of the duo's matching beards that they decorate with objects such as plants, paint and even glitter.
They told The Groomed Man Co.,
One day in July of 2014, we were sitting on the couch, feeling anxiously creative, and we thought, 'Why not go take a picture of our beards?'… We went off exploring, took a couple photos for our newly created Instagram, and the rest truly was history.
The artists have a strong following of more than 29,000 followers, and they are working on expanding their visions beyond Instagram.
Check out some photos from the quirky account below.
Brian and John, the team behind The Gay Beards, met when they were both 8 years old.
They've been best friends ever since, even deciding to grow beards together in 2013.
Last year, they launched their now-famous Instagram account.
Each post features the two showing off their freshly decorated beards.
They say the decorations can take anywhere from 20 minutes to over two hours to complete.
Once a week, they meet to discuss future posts.
Their ideas often take cues from current events, such as their beloved "Love Always Wins" photo.
Unsurprisingly, both are artists by trade.
Brian is a painter and a photographer, and John is a musician.
Along with their popular Instagram account, the bearded buds create YouTube videos...
...and they're working on a children's book.
They said, "We're constantly evolving our vision of where we would like to see The Gay Beards go."
But for now, their whimsical portraits are entertainment enough for fans.
Citations: Gay Best Friends Who Decorate Their Facial Hair With Glitter Flowers and Even Food Earn Overnight Internet Fame With Artistic Instagram Images (Daily Mail )