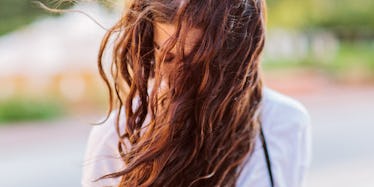 This Is Why You Need To Stop Using Dry Shampoo Right Now (Sorry)
There are a few things in life that I hold incredibly near and dear to my heart.
Like, you know, my puppy... rosé... pizza... naps.
Not to mention, what might be the best beauty invention of all time: dry shampoo.
I stumbled upon this almighty "hairstyle saver in a bottle" about a year ago and since then, I can honestly say my life has never been the same.
Yep, if there's one thing that's just as great as having fabulous hair, it's getting a little extra beauty rest.
Thanks to this game-changing product, my mornings of waking up at 6 am to embark on the hour-long journey of washing my hair has been diminished to rolling out of bed at 8 am and freshening up my 'do with a spritz of dry shamp before heading out the door.
But if you're one of the many ladies like myself who heavily relies on dry shampoo to sustain your style in between actual washes, I have some bad news for you.
Your dry shampoo addiction might actually be ruining your hair.
I know, I felt pretty betrayed by my beloved beauty product when I found out about this as well.
Olga Khazan of The Atlantic recently revealed a horror story of her thinning hair as a result of excessively using dry shampoo.
When she noticed her hair loss problem, she did what any logical individual would do: asked Google WTF was up with her 'do, of course!
Her search produced a bunch of traumatizing stories and pictures from other people who were suffering from dry shampoo-induced hair loss, so Khazan decided to ask a bunch of hair experts and dermatologists for their opinions on the use of the spray.
It turns out that overusing this product is the root cause of this dry shampoo hair thinning problem.
Apparently, we're all guilty of living in a La La Land, where we think we can skip out on the actual shampoo for its spray bottle substitute. Unfortunately, it doesn't work like that.
While dry shampoo may soak up the oil in your hair, it doesn't actually clean your locks like traditional shampoo. Plus, dry shampoo can cause scalp irritation and hair clumping, which is often the culprit of hair loss.
According to Sonia Batra, a dermatologist in Los Angeles,
Dry shampoo deposits substances to coat the follicle that can build up. The resulting inflammation can weaken the follicles and increase shedding. These products can also cause hair follicles to stick together, so that a hair that would normally shed during brushing may take two or three strands along with it.
So how much dry shampoo is too much?
Well, most of these experts recommend that you should use dry shampoo no more than 3 times per week and stay away from any products that contain talc, which is an ingredient that has been linked to cancer.
So yeah, I guess it's time to finally ditch our dry shampoo obsessions and go back to washing our hair the old fashion way.
Citations: The Unfortunate Reality of Dry Shampoo (The Atlantic)