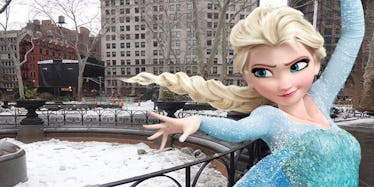 Disney Characters Make The Best 'Humans Of New York' Subjects (Photos)
We've all seen our favorite Disney characters in magical kingdoms and enchanted forests thanks to all the stories we read and movies we saw as kids.
But when it comes to messing around with Disney characters, no one seems to do it better than Loryn Brantz.
Whether she's adding some frizz to their unrealistically perfect hair or turning princesses into Steve Buscemi, you never know what she's going to do to the Disney crew next.
In her latest project, Brantz set out to give a bunch of your beloved Disney characters a new identity with a backstory inspired by the Big Apple. That's right, your favorite fairy tales have just become part of the popular Humans of New York series.
Her comical images show everything from Ursula grabbing a late-night dollar slice to Cinderella sitting in Central Park. Just like the original HONY series, each portrait is accompanied with an interesting story that gives you an idea of what it's like to live as a whimsical character in the concrete jungle.
All of Brantz's reimagined Disney Characters of New York look pretty awesome. Not to mention, some of their big-city inspired stories are hilarious.
Take a look at the pictures below, accompanied with my own DONY descriptions.
The NYC party scene can really get the best of you. I have a really bad habit of losing my shoes at the club and going home with guys I just met.
Every New Yorker knows the best way to end the night is with a delicious dollar slice.
Working as an independent builder in a big city is hard. There's a lot of competition from all those unions nowadays.
I like to feed the rats in the park. People tell me I'm crazy, but these little guys are my closest friends.
In the winter, I find it's really hard to stay warm and look fashionable. I've been out and about for days looking for my mysterious suitor.
In New York, anything is possible. Moving to the city on your own really lets you spread your wings and fly.
I think the city is a great place to raise a family. Every weekend I take my daughter to go play in the park.
I don't see why people complain about winter in NYC. I wear dresses when it's snowing all the time. The cold doesn't bother me.
After living in the city for a while, you'll meet a lot of interesting characters. But the best part about NYC is that there's a place for everyone.
Citations: Humans Of New York Reimagined With Disney Characters Is Perfect (Buzzfeed)