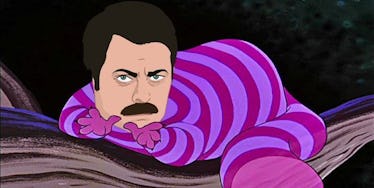 Artist Turned Celebrities Into All Of Your Favorite Disney Characters (Photos)
Loryn Brantz
It seems like artists are always finding clever ways to give the classic Disney characters a creative makeover.
Whether someone gives your favorite princesses realistic hair or turns them into hipsters, it seems like the possibilities are pretty much endless when it comes to giving this crew of cartoons an interesting new appearance.
Recently, Loryn Brantz set out to give a bunch of your beloved Disney films a star-studded makeover.
After taking suggestions from her fans, she created a series of fairytale characters reimaged as Hollywood celebrities, and the results are hilarious to say the least.
Apart from Steve Buscemi basically taking on the identity of every character in the Magic Kingdom, her whimsical transformations include Nick Offerman assuming the role of the Chesire Cat, Lupita Nyong'o transforming into the lovely Cinderella and Seth Rogan playing her chubby little mouse friend.
These comical characters are sure to make you laugh and will probably ruin your childhood movie memories.
Take a look at the photos below to see these hilarious Disney celebrities.
Quvenzhané Wallis as Alice
Nick Offerman as the Chesire Cat
Steve Buscemi as the Mad Hatter
Jennifer Lawrence as Wendy
Josh Hutcherson as Peter Pan
Steve Buscemi as Captain Hook
John Stamos as Aladdin
Mindy Kaling as Princess Jasmine
Steve Buscemi as Jafar
Emma Watson as Belle
Dwayne "The Rock" Johnson as Gaston
Steve Buscemi as Prince Philip
Taylor Swift as Princess Aurora
Angela Bassett as Maleficent
Lupita Nyong'o as Cinderella
Seth Rogen as Gus
Steve Buscemi as Prince Charming
Eddie Murphy as Mu-Shu
Steve Buscemi as Li Shang
Amy Adams as Ariel
Idris Elba as Prince Eric
Steve Buscemi as Sebastian
Citations: Needs Moar Steve Buscemi: Celebrities As Disney Characters (Incredible Things)