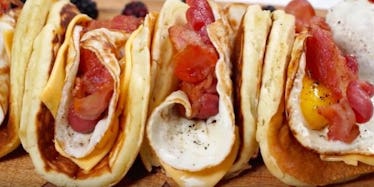 Some Genius Just Created Breakfast Tacos Out Of Pancakes And Bacon
Food Steez
It's no secret that I'm kind of obsessed with tacos. After all, I did go on an all-out taco diet for a week straight back in the fall.
Eating tacos every day was great and all, but during my experimental diet, I found one little drawback to eating my beloved tortilla-wrapped snacks at all hours of the day.
There aren't a lot of Mexican restaurants open at 7 am, so unless you're down to stuff your face with some leftover cold fish tacos, you're basically out of luck when it comes to eating tacos for breakfast.
That is, until now.
Yep, it turns out there's a new south of the border-inspired snack on the block and trust me, this almighty food mashup will put breakfast burritos to shame.
Behold, Pancake Tacos, also known as Pacos.
Created by our hungry friends over at Food Steez, this glorious frankenfood creation ditches the boring old tortilla shells and ground beef filling for all of your favorite breakfast foods.
That's right. You can now start your morning off with some syrup-drenched pancake tacos filled with cheesy eggs and bacon. And there is no denying that these things look downright delicious.
If you're wondering how to make these bad boys, first you'll need to whip up some good old-fashioned flapjacks. Then cook up some bacon up to crispy, glistening perfection and fry an egg sunny side up.
Once that's done, take your pancake, pile on some cheese, followed by the egg, bacon and a sprinkle of seasoning. Then simply fold your pancake into the proper taco shapes, drizzle on some mouthwatering maple syrup and dig in.
Check out the video above for a closer look at how it's all done.