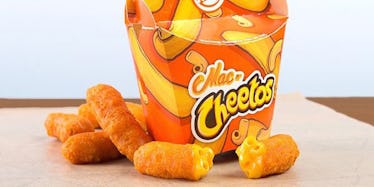 Burger King Is Blowing Everyone's Mind With Its New Mac N' Cheetos Concoction
Thanks to the food porn revolution, it seems like a new frankenfood creation is brought to life before our very eyes almost every day.
Remember when we showed you the Whopperrito not too long ago? Well, if you're still not over the fact that Burger King recently brought a burger-burrito hybrid into the world, you might want to cover your eyes.
Apparently, BK just whipped up a new hybrid snack that might be even more insane -- the Mac n' Cheetos.
Now if you're like most people, hearing this news probably puts a lot of thoughts into your head. Like first and foremost, WTF are these things? Apparently, these strange snacks are just mozzarella sticks on steroids.
Yep, Burger King basically just gave your beloved fried cheese sticks a makeover by swapping out the mozzarella for some melty mac and cheese and ditching the normal bread crumbs for a fancier coating of deep-fried Cheetos crumbs.
I'll admit, I'm not really sure how I feel about this creative take on mozzarella sticks. Given the fact that both Cheetos and mac and cheese make delicious snacks on their own, I feel like Mac n' Cheetos might actually be tasty AF.
However, at the same time, these deep-fried monstrosities look like they might actually be trying to kill you -- or at the very least, cause you to become pretty damn acquainted with the porcelain throne.
Apparently, BK is set to roll out its Mac n' Cheetos nationwide on June 27, so I guess we'll all just have to try them and see for ourselves.
Check out the tweets below to see what people are saying about these insane snacks.
Allow me to introduce you to Burger King's latest snack creation, Mac n' Cheetos.
Burger King, ladies and gentlemen. pic.twitter.com/p7UGyVdcck — Darren Rovell (@darrenrovell) June 23, 2016
If you're wondering what the hell these cheesy monstrosities are, let me fill you in.
So BK is getting this new thing called "Mac n Cheetos"which sounds hella gross but it's just Mac and cheese wrapped in breading & deep fried — lindsay (@normanisnachos) June 14, 2016
Apparently, these things are basically just mozzarella sticks that swap out the normal cheese and fried breadcrumbs, for some mac and cheese coated in Cheetos crumbs and fried to perfection.
cheetos w mac n cheese in the middle wow what an idea — Rachel (@yungbootyhole) June 11, 2016
The Mac n' Cheetos won't make their official debut on the BK menu until June 27.
We declare this the summer of cheesy. #MacNCheetos coming Monday 6/27. pic.twitter.com/bx5L7NyUqO — Burger King (@BurgerKing) June 22, 2016
However, people already have a lot of feelings about this insane snack.
Apparently, Burger King is trying out something called Mac N' Cheetos. I can't decide if I'm horrified or delighted pic.twitter.com/jTzxcYFftU — Jaclyn H'ghar (@Chocobochica) June 23, 2016
So far we've seen some frankenfood fans that seem to be pretty shocked by this almighty creation...
HOLY MACARONI! https://t.co/qXYj3RxExs pic.twitter.com/ZF5ItcNZvW — Kara Apel (@Kara_Apel) June 23, 2016
...but in a good way, of course.
Them Mac n' Cheetos Look like they might be good af — Tie Johnson (@Tie__Tie) June 23, 2016
Yep, some open-minded eaters actually seem to think Mac n' Cheetos is a pretty ingenious invention.
I've seen the eyes of god and they're macaroni and cheetos from BK. — Zac Holmes (@MTVZacHolmes) June 22, 2016
But while some people can't wait to get their hands on these hybrid snacks...
Burger King about to be all the way up once these mac n cheetos release pic.twitter.com/TGc3MwjhrK — 7 GOD (@iiBreakNecks) June 22, 2016
...others are a bit more skeptical about combining their beloved mac and cheese with Cheetos in a single snack.
Mac N Cheetos at Burgerking, these fast food places are seriously trying to kill everyone!! SMH!! — Brian Schaefer (@brian_schaefer) June 23, 2016
That's right. Some BK critics clearly aren't really feeling the new menu item...
Those Mac n cheese Cheetos look gross as fuck — C.P.3.O. (@CodyPanks) June 23, 2016
And have compared these cheese-filled sticks to everything from a bite-sized heart attack...
Mac n Cheetos sound like a snack sized heart attack — im a meme gril (@Spookylilbabe) June 23, 2016
And a really great way to give yourself kidney stones...
mac and cheetos sounds like an easy way to get kidney stones — rob (@rob_jpeg) June 22, 2016
...to the reject love child of a salt lick and a melted puddle of cheese.
Mac n' Cheetos sounds like a salt lick had sex with a puddle of melted Velveeta. — (((Sam Wolk))) (@TheHornGuy) June 23, 2016
Since the Mac n' Cheetos have already popped up in a few test markets across the country, some lucky individuals have already had a chance to try these things...
I will now live tweet my review of burger kings latest science-as-food experiment, Mac N' Cheetos. #MnCBK pic.twitter.com/WFUeGTzuL3 — Jonathan Holmes (@TronKnotts) June 21, 2016
...and surprisingly enough, most have reported that the Mac N' Cheetos aren't that bad.
@ArtKour @atorwulfu @sleepycritter if I were to describe them they're just (good) deep fried Mac n cheese with vague Cheetos dust covering — automatic doop (@canidaeskull) June 23, 2016
But if you're brave enough to stuff your face with these bougie bites...
I really really really really really really really need to try the Burger King mac n cheetos. It's everything I love. Except Burger King. — Catherine Bodie (@catherinebodie) June 23, 2016
You better be willing to pay the consequences of consuming these cheesy fried snacks.
mac n cheetos is hella bomb but only if you're willing to drop bombs in the toilet sooo.. warning. — Natnat (@naatizzle) June 10, 2016
'Merica.
Now that Burger King have Mac N Cheetos, I think we can safely assume we've hit peak America. Good job. Let's pack it up. Our work is done — James Donner (@jamesadonner) June 21, 2016
Citations: Burger King Unleashes 'Mac N' Cheetos' (Grub Street)