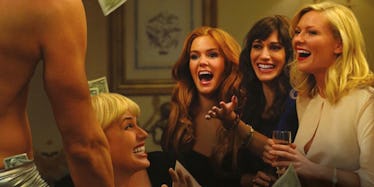 This Quiz Will Tell You Which Type Of Bachelorette Party Is Perfect For You
The Weinstein Company
Every bride-to-be has to make a lot of important decisions leading up to the big day.
After you land the guy of your dreams and finally score that big, sparkly rock, the real work begins.
From picking the perfect dress and selecting a venue to making decisions about the food, the decor and the entertainment for the evening, there are lots of things that go into planning your fairytale wedding.
But you know what's even more important than solidifying the plans for the day you finally throw on that white gown and walk down the aisle?
Figuring out how you're going to celebrate your final days as a free woman, of course!
Yep, if there's one thing that's just as important as the day you say "I do," it's spending some quality time with your bestie squad in the form of an epic bachelorette party.
However, every bride is different and not all ladies are down for the classic bachelorette bash.
Some women prefer a wild weekend rager filled with booze, bad decisions and male strippers.
While other ladies choose to skip out on the ratchet nightclubs and dick-shaped party favors for a chic backyard bachelorette party or a relaxing day of bubbles and bougie spa treatments.
If you're still not sure where you should have your last hoorah, don't worry, we've got you covered.
Take the quiz below to see where you should have your bachelorette party based on your unique personality.