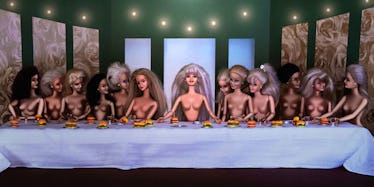 Artist Recreates Portraits With Barbies To Question Beauty and Society (Photos)
Besides being the centers of attention at museums and art galleries around the world, classic paintings are also great for many other things.
Not too long ago, we introduced you to the person who decided to pair Kim Kardashian's selfies with classic works of art composed by artists like Gustave Courbet and Hans Memling.
This time, it's all about Catherine Théry, the French artist who recreated some of the world's most cherished classic paintings using Barbie dolls -- and one Ken doll.
She simply wanted to bring women into art history and draw attention to their places in society, which she conveyed with the creation of this project.
The coolest part about it?
Théry was given her very own exhibition, titled "Not the ones you think," at Paris' prestigious Teodora Galerie, where each of these pieces was on display.
Who would have thought Barbie would ever be paired with the work of Leonardo da Vinci?!
Oh, and did I mention Barbie is pretty much naked the entire time?
Check out the photos below for a closer look.
"The Son of Man" by René Magritte / "American Gothic" by Grant Wood
"The Creation of Adam" by Michelangelo
"Lunch on the Grass" by Édouard Manet
"Gabrielle d'Estrées et une de ses soeurs" by Unknown Artist
"The Last Supper" by Leonardo da Vinci
"The Anatomy Lesson of Dr. Nicolaes Tulp" by Rembrandt
"The Death of Marat" by Jacques-Louis David
"The Card Players" by Cézanne
"The Two Fridas" by Frida Kahlo / "The Scream" by Edvard Munch
Citations: Barbies Invade Classic Paintings To Bring Women Back Into Art History (Bored Panda)