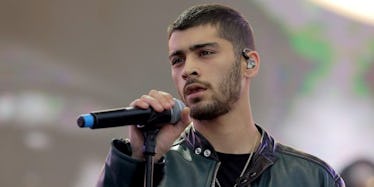 Zayn Dropped A New Single With PartyNextDoor And It's The Perfect Friday Jam
REX/Shutterstock
Zayn Malik just added his name to the growing list of artists who dropped new music this week.
In addition to Drake's More Life last weekend and Kendrick Lamar's new single, "The Heart Part 4," Zayn just hit fans with his new single with PartyNextDoor, "Still Got Time."
On Thursday, Zayn released the song along with a lyric video on YouTube.
So happy Friday to you! As much as I hate to admit it, this song is a total jam. It's the perfect tune to just chill out and vibe to.
I personally have listened to it three times, and I already feel like a fundamentally more content and chill person.
The actual lyrics depict Zayn telling some girl to chill on finding love because "she's still got time."
Basically, it's Zayn telling girls to stop being so clingy in a very nice way. Typical women, am I right?
It's all very easy for Zayn to say. He's basically like a few months away from getting engaged to the love of his life, Gigi Hadid. She's already met his family and everything.
But then 23-year-old rapper and singer PartNextDoor comes in to tell this girl that yes, he knows he's boyfriend material, but she should still probably stop trying to lock him down.
Such humble men.
Zayn has been keeping fairly busy since he left the boy band that launched his career, One Direction.
It's probably not a coincidence that he released this single just two days before the two-year anniversary of that departure, either.
It was just a few months ago that he released "I Don't Wanna Live Forever," his collaboration with Taylor Swift for the film "Fifty Shades Darker."
And he's already got one solo album under his belt, Mind of Mine, which featured the always-relevant single, "Pillowtalk."
Could this new single be a hint that another solo album is coming?
Citations: Listen to Zayn's new collaboration with PartyNextDoor, 'Still Got Time' (Mashable)