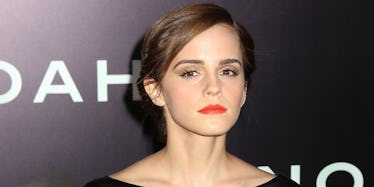 Yep, Only About 3 People Went To Go See Emma Watson's New Movie
Shutterstock
No one told us Emma Watson starred in a movie about a Chilean cult or I'm SURE we would have all seen it, right, you guys? Guys, right? Seriously, for real, right? Guys?
"Colonia," AKA "The Colony," only raked in around $61 in ticket sales during its three-theater opening weekend. Emma Watson deserves better than that, honestly.
The film, which follows a woman's fight to find and save her husband from the Colonia Dignidad cult, premiered at the Toronto Film Festival last year and, according to Mashable, critics were not impressed.
This one film probably shouldn't discourage any of us, or Emma herself, from getting stoked for the rest of her upcoming films.
We've been drooling over the "Beauty and the Beast" teaser trailer since it dropped in May. Plus, a film adaptation of Dave Eggers' "The Circle" is already in post-production, so we'll get to see Emma alongside Tom Hanks and "Star Wars" newcomer John Boyega.
In case your loyalty to ol' EmWa (IDK, trying it out) is still wavering, please take a brief recess to consider the gems she's already given us.
"The Perks of Being a Wallflower"
"The Bling Ring"
That one interview with Malala.
Oh, and EVERY "HARRY POTTER" MOVIE.
Hang in there, kiddos. Emma will be back on top soon enough.
Citations: Emma Watson's latest movie only made £47 in UK theaters (Mashable)