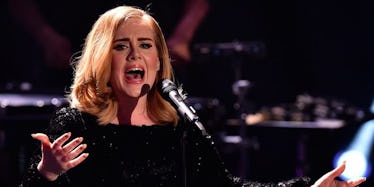 This Woman Looks Like She Could Be Adele's Identical Twin
Getty Images
Remember that Taylor Swift doppelgänger we showed you back in December? Oh, also, remember that second Taylor Swift doppelgänger we showed you back in January?
THROW THEM BOTH IN THE DUMPSTER BEHIND SHOPRITE BECAUSE I PRESENT TO YOU, FINALLY, THE CELEBRITY DOPPELGÄNGER TO END ALL CELEBRITY DOPPELGÄNGERS.
Swedish resident Ellinor Hellborg looks just like everyone's favorite emotionally-raw chanteuse, Adele.
From the tips of her winged eyeliner to the bottom of her bangs (which is, in actuality, just a sliver of forehead, but bear with me for the purposes of catchy phrasing), this 22-year-old personifies the "When We Were Young" singer at all times.
Hellborg has the piercing eyeballs.
She has the pouty lips.
She has the SAME. DAMN. NOSE.
In response to followers insisting she could be Adele's twin, Hellborg captioned a photo on Instagram,
Fun fact: I did singing at school and actually performed several of Adele's songs, I'm a huge fan of hers and hearing you all say I look like her is such a compliment!
Truthfully, the more Adele there is in this world, the more beautiful a world it will be.
Citations: 'Hello, it's NOT me!' Adele lookalike who often gets mistaken for the star says she never saw the resemblance until fans contacted her on Instagram (Daily Mail)