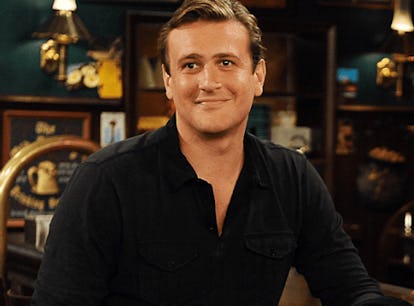 Jason Segel Is Ready To Make Marshall's Return In HIMYF Happen
Gonna need Lily to come back for this one too.
CBS
The MacLaren's gang is getting back together, one How I Met Your Father cameo at a time. Jason Segel is the latest How I Met Your Mother star to confirm he's open to bringing back his character to meet the new generation of dating disasters. So, with Segel's interest piqued, will Marshall appear in How I Met Your Father? It sounds pretty promising that the big-hearted lawyer will show up soon enough.
Segel confirmed he'd be down to bring Marshall back to the HIMYM universe during a Jan. 27 interview with Entertainment Tonight. He emphasized his love for the team behind the mid-2000s sitcom and it's new sequel series, saying that if they wanted Marshall back, he'd come running: "Those people changed my life and I would do anything they ever asked me to."
It definitely looks like the HIMYF team is interested in bringing back all of the OG show's stars. The Hulu series' Season 1 finale saw Robin Scherbatsky return to give Sophie some dating advice, and the Season 2 premiere wowed fans by bringing back Barney Stinson. Josh Radnor also revealed he'd been discussing making a cameo as Ted Mosby somewhere down the line, so Segel's comments mean Alyson Hannigan is the only HIMYM main cast member who has yet to publicly revealed if she'd be open to returning. But c'mon, they'd have to bring back Lily if they bring back Marshall, right? HIMYF's premiere episode pretty much confirmed Marshall and Lily are still married when Jesse mentioned he got his apartment from an "old married couple" in the Wesleyan alumni group, so it would only make sense to bring back HIMYM's only longtime functional couple as a duo.
Given Segel's statement, HIMYM fans can pretty much rest assured Marshall will show up in HIMYF. Following Barney's big appearance, showrunners Isaac Aptaker and Elizabeth Berger confirmed they've discussed "plot lines for all of the original characters" in an interview with Entertainment Weekly.
"Now it's just a question of parsing them out and hoping that people are available and want to do it when it's the right time to ask," Berger said. "But yes, we think it's so much fun, and it makes our world bigger, and it satisfies fans on a really deep level, so we love to do it and we have the ideas."
Look out for some familiar faces as new episodes of How I Met Your Father Season 2 drop Tuesdays on Hulu.