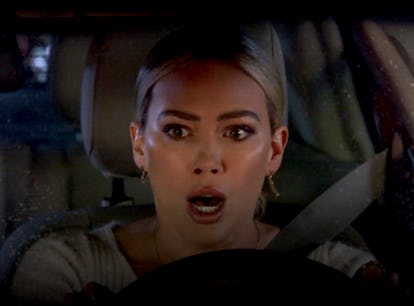 HIMYF's Iconic HIMYM Cameo Means Big Things For Season 2
This is going to be legen — wait for it — dary.
Hulu
Warning: Spoilers for How I Met Your Father Season 2, Episode 1 follow. The How I Met Your Father Season 2 premiere ended with a mother of a reveal. With Barney Stinson's sudden return to the How I Met Your Mother universe, the Hulu sequel series has now brought in two-fifths of the original sitcom's main cast. Even better: Barney's stay will be a bit longer than Robin's Season 1 appearance ,as the How I Met Your Father creators confirmed Neil Patrick Harris will return later in Season 2.
Barney's arrival was the biggest surprise in the HIMYF Season 2 premiere. In future Sophie's time-jumping story, she revealed that sometime later in the year after Sid and Hannah's wedding party, she had a pivotal car crash. The quick flash-forward showed Sophie hitting the back of Barney's car while freaking out over possibly dating her dad. (Yeah, that strange little tidbit is also yet to be explained.) Just as Barney got out of the car to confront Sophie, the flash-forward ended.
The small scene made a big impact, and it's clearly setting up a larger arc for Barney later in the season. HIMYF co-creator Issac Aptaker confirmed the timeline will catch up to that moment and fully explore Barney and Sophie's interaction in future Season 2 episodes in a Jan. 24 TVLine interview. "That car crash becomes a major turning point in Sophie's life and in her season-long arc," he said. "Once we catch up to that, I think people will be pleasantly surprised by how her story turns via Barney."
The cameo was a surprise given Harris' previous comments about Barney not being a good fit for the sequel series. As HIMYF Season 1 was airing in early 2022, Harris told Duff he was "not sure if it's in anyone's best interest" for Barney to return given his character's playboy antics, which have not held up very well.
Co-creator Elizabeth Berger said discussions around Barney's portrayal were a big part in the process of bringing Harris back. "We wanted him to be true to his character and to the fans that loved Barney so much. But we also wanted him to exist on our show, in our time, in a way that made sense," she said. "So all of that Zoom was spent talking about how we could blend all those things and service him and the show in the best way possible. We are very excited for people to see the way that turned out."
Barney is the second main character from HIMYM to return in HIMYF. At the end of Season 1, his ex, Robin Scherbatsky, showed up to give Sophie some hard-earned dating advice. Josh Radnor, who starred as the unlucky-in-love Ted Mosby, also revealed he'd be open to appearing in the show a couple weeks before Season 2 premiered, so the future looks bright for How I Met Your Mother superfans to see even more of their fave crew once again.
New episodes of How I Met Your Father release Tuesdays on Hulu.