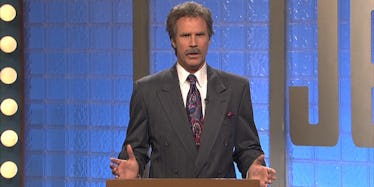 Will Ferrell Did His Best Trebek Ever For 'SNL 40' 'Celebrity Jeopardy'
Watching "SNL 40" was like stumbling into your neighbors' orgy. Everyone you know was there.
The three-and-a-half-hour live show was just too good to be true, and we can't begin to wonder what we did to deserve such an epic collaboration of televised sketch comedy.
Just to name a few, Kristen Wiig, Bill Hader, Bradley Cooper, Adam Sandler, Andy Samberg, Mike Myers and Dana Carvey were all in attendance. Oh, and Will Ferrell... as Alex Trebek.
That's right, they brought back our favorite host for another round of "Celebrity Jeopardy." What's next? A spot-on Matt Foley impersonation by Melissa McCarthy?
Citations: Sean Connery And Burt Reynolds Returned For An Epic SNL Celebrity Jeopardy Sketch (Buzzfeed)