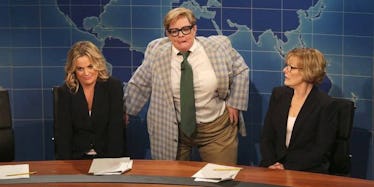 Matt Foley Is Brought Back To Life By Melissa McCarthy On 'SNL 40' (Video)
Is there anything better than a comedian's impersonation of another comedian's impersonation? It's like a double inception.
Matt Foley may be fictional, but Chris Farley made him real, and now Melissa McCarthy is bringing him back to life.
"Saturday Night Live's" 40th Anniversary Special was full of surprises and riveting cameos, but none more special than McCarthy's Matt Foley impression.
Even with Emma Stone, Edward Norton and Paul McCartney there, we couldn't help but be blown away by Melissa.
OK, OK, I'm sorry. Paul McCartney was good, too.
Citations: Watch Melissa McCarthys Spot-On Chris Farley Impression From #SNL40 (Uproxx)