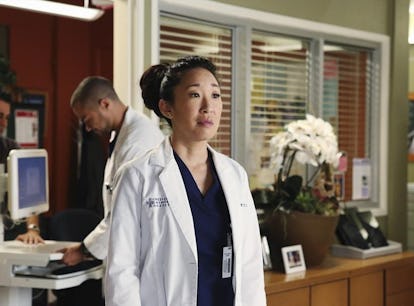 Grey's Just Dropped A Huge Hint That Cristina May Finally Make Her Return
ABC
After a decade away, Cristina Yang could be scrubbing back in for a long-awaited Grey's Anatomy return soon. At least, that's what some fans think after a recent moment in Season 19. The show dropped an unexpected shoutout to Cristina that could be hinting at a more substantial cameo. So, will Cristina Yang return in Grey's Anatomy Season 19? Here's why fans are hopeful.
The big moment came at the end of Season 19, Episode 16, when Addison Montgomery received a letter from Cristina. The note confirmed Cristina is still based in Zurich, Switzerland, and that she's still keeping tabs on the goings-on at Grey Sloan, having sent over supplies Addison needed to keep her PRT going. Although Cristina has sent letters to her former colleagues in the past, this one stood out from the rest. This marked the first time Cristina communicated with the Grey Sloan team about something not involving her bestie Meredith Grey. Now that Meredith has left the hospital, the letter could be setting up a return for Cristina that's not revolved around reuniting with her BFF, but rather based on professional convictions.
Season 19's focus on reproductive rights is bolstering this theory. Some fans are theorizing that because this season has centered multiple storylines on reproductive health and freedoms following the overturn of Roe v. Wade, it's created the perfect atmosphere for a Cristina Yang comeback. After all, some of Cristina's most impactful moments ever have come from her passionate fight for reproductive rights.
Grey's has also been bringing back pretty much every old-school fan fave in recent seasons, from Mark Sloan to McDreamy himself. Cristina is definitely the most notable main character who has yet to make a return since her exit in Season 10, and with the show bringing back characters left and right, now could be her time.
Don't set your hopes too high, though. Sandra Oh has been pretty clear in past interviews that she has no interest in playing Cristina anymore. When asked if she'd ever return in a 2021 interview, Oh responded that she's completely out of the Grey's world for good. "In my mind, it's gone," Oh said. "I have moved on."
There are only a few episodes left in Grey's Anatomy Season 19 before the season finale airs on Thursday, May 18 on ABC.