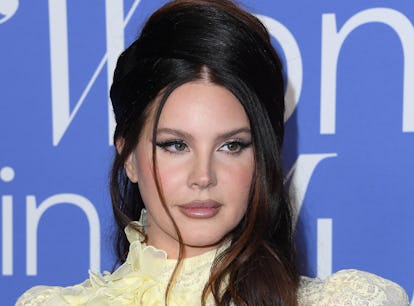 Why Lana Del Rey, #1 Priscilla Presley Superfan, Isn't In Priscilla
She would've been so perfect.
By now, Lana Del Rey's love for Priscilla Presley is well-known. The singer's style closely resembles Presley's, and Del Rey has even sung about Elvis often in her songs. The comparison has grown so strong that Del Rey fans had already come to the conclusion that the singer would be involved in the 2023 biopic Priscilla in some way. Sadly, that didn't end up happening, but director Sofia Coppola did confirm that there were plans for Del Rey to be part of the movie.
Coppola admitted to E! that she heard the fan outcry for Del Rey to be in Priscilla as soon as the movie was announced. "I'm learning that people really connect Lana Del Rey and Priscilla and I didn't realize that," Coppola said. "I got a lot of requests with, 'How is she gonna be a part of the movie?'"
The answer? An original song in the movie's soundtrack. At least, that's what Coppola was dreaming of. Unfortunately, the director revealed that plans for the Del Rey song didn't come together in the end. "We were hoping she could do a song for it, but it didn't work out with the timing," Coppola said.
She also invited Del Rey to the Priscilla premiere, but the singer couldn't make the event.
Coppola's revelation follows years' worth of speculation that Del Rey would someday play Priscilla Presley. Back when Baz Luhrman's Elvis was first announced in 2019, all the casting rumors were about Del Rey potentially playing the late rock star's wife. Presley even gave her blessing for Del Rey to play her at the time. But the role wound up going to Olivia DeJonge instead.
The reason for the intense association between the two women has to do with Del Rey's styling and lyrics throughout her career. The singer's signature '60s bouffant hairstyle was famously popularized by Presley, as well as her exaggerated, dark mascara.
Del Rey also frequently invokes Elvis in her songs. Her 2012 release "Body Electric" includes the lyrics "Elvis is my daddy," and she even has a whole song called "Elvis" that she released for the 2018 biopic The King. Fans also believe she's made subtler allusions to Elvis in various projects, like including an Elvis impersonator in her Tropico short film and referencing Elvis' "Blue Suede Shoes" lyrics in her song "Million Dollar Man."