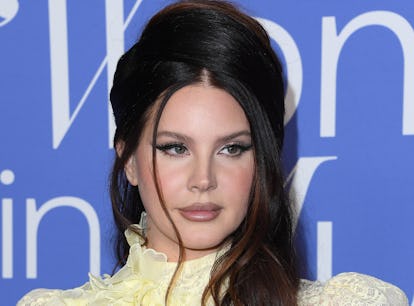 Lana Del Rey's Relationship History Is Super Mysterious
She's a Cancer who keeps things close to her chest.
Steve Granitz/FilmMagic/Getty Images
Lana Del Rey may love singing about relationships and breakups, but she's not a big fan of talking about her own. Though it's pretty private, Lana Del Rey's dating history reportedly includes a few short-lived hookups, a few long-term romances, some famous faces, and three rumored engagements. In March 2023, sources for Billboard claimed the singer is engaged to her latest rumored lover, and though she has yet to confirm the reports herself, fans are still eager for details about the maybe-relationship (as well as Del Rey's other rumored relationships over the years).
She may keep her love life to herself, but according to Del Rey, she's all about big, dramatic romances. "When that's your prerogative, things don't end in a traditional way," she told Rolling Stone in July 2014. "You don't have that traditional relationship where maybe you go out with couples at night, or you do normal things. It's more of an extension of the creative process. There's high-impact events that happen, or big adventures, or big fallouts. So it's inspiring, and it's not grounding, but it's what I need to keep going." Very on-brand. Here's everything to know about Del Rey somewhat-secretive relationship history — and her latest rumored fiancé.
Del Rey has yet to confirm whether she's actually engaged (or even dating Winiker), so fans will just have to wait and see.
This article was originally published on