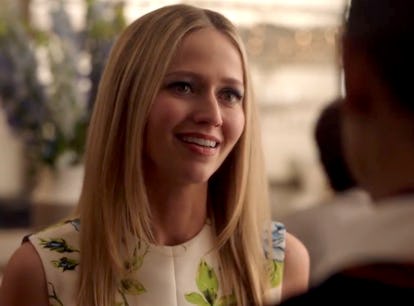 Gossip Girl's Latest Villain May Be The Most Conniving Yet
She played everyone like a fiddle.
HBO Max
It takes a lot to be the ultimate manipulator in the ever-scheming world of Gossip Girl, but a brand-new character put on a diabolical display that even Blair Waldorf would have to applaud. After she'd been alluded to earlier in the season, Jessica Bradley finally appeared on the Upper East Side in Season 2, Episode 7. Although she seemed nice at first, it didn't take long for the ambitious fashionista to pull the rug out from under everyone. Here's all the tea on Jessica Bradley, Gossip Girl's newest big bad.
Spoiler alert: This post contains details from Gossip Girl Season 2, Episode 7. Jessica had been mentioned a few times before she finally showed up in Episode 7. Well, not mentioned by name, but Audrey and her mother Kiki have discussed many times how Kiki's husband ran off with her assistant. And now that assistant has a name. It seemed like Jessica had good intentions in trying to reconnect with Audrey, but in reality, she was scheming to ruin Kiki and take her place as the next hot fashion designer the whole time.
Her plan was Blair Waldorf-levels of devious. First, she used Julien's IG Live show to allege that Kiki stole all her designs from when she was working as her assistant, upping the juiciness by sending a secret recording of the convo to Gossip Girl. Then, she continued using Julien as a pawn by convincing her to reveal the same dress she herself was wearing to Kiki's big launch, allowing her to matter-of-factly claim the design was her own.
To top it all off, she convinced Kiki's ex, Will, to marry her before the big event to really rub the salt into Kiki and Audrey's wounds. You've just got to hand it to her — it was a pure evil move, but a master class in how to win the Gossip Girl game.
If Jessica looked familiar to you, it's probably because you recognized actor Johanna Braddy from one of her many other TV and movie roles. She starred in The Grudge 3, as well as the ABC Family college drama Greek, ABC's FBI thriller Quantico, and the Bachelor-inspired Lifetime series UnReal. Perhaps her most memorable character (although by name only) was Melody Bostic from Easy A.
It's unclear if Jessica's destruction is over or if her reign of terror is just getting started. Find out by tuning into new episodes of Gossip Girl Season 2 Thursdays on HBO Max.