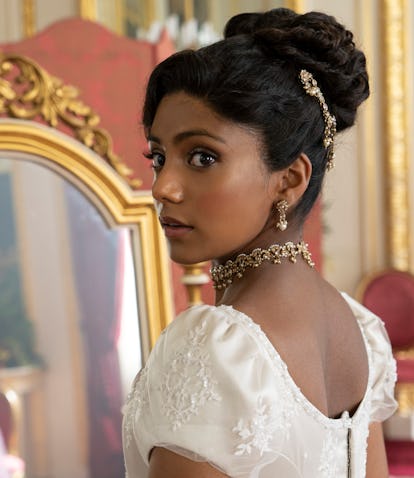 5 Theories About Who Edwina Ends Up With On Bridgerton
This diamond deserves only the best.
Liam Daniel/Netflix
The page-to-screen changes for Season 2 of Bridgerton were extensive, not just to the background ensemble like in Season 1, but to the central love story itself. The series decided to turn Kate, Edwina, and Anthony into a full-on love triangle, and with Anthony and Kate as the central couple, that left her sister single at the end of the season. So, who does Edwina marry in Bridgerton? There are several theories.
Warning: Spoilers follow for Bridgerton Season 2 and The Viscount Who Loved Me. In the novel, Edwina never gets engaged to Anthony; his forced marriage proposal to Kate happens too fast for that. More importantly, when Kate and Anthony announce their engagement, she's not upset. Her response could best be summed up as "Bullet: dodged."
Edwina had no desire to marry Anthony in the novel; she was merely resigned to having no better choice to secure her family's financial future. Moreover, Edwina had already fallen in love with someone else when she learned she'd been freed from her potential Anthony engagement. It takes her a while to admit it to Kate, but she was over the moon about Kate and Anthony because it meant the family's financial future no longer rested on her shoulders and she could be courted by the guy she wanted to be with.
Could the show be planning to head in that direction? Or was it serious about bringing back Season 1's prince to sweep her off her feet?
Let's run down the candidates for Edwina's happily ever after.