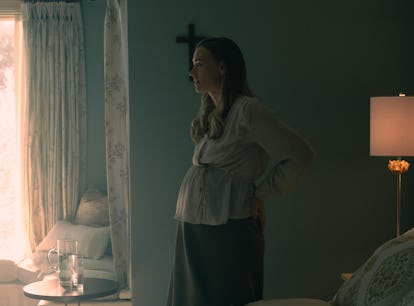 4 Theories About *That* Handmaid's Tale Plot Twist
Where TF does the show go from here...?
Sophie Giraud/Hulu
Warning: Spoilers for The Handmaid's Tale Season 5, Episode 6 follow. Ever since June became the replacement handmaid for the Waterfords way back in Season 1, her life has been intertwined with Serena Joy's. The woman once known as Mrs. Waterford was a reactionary right-winger who promoted tradwifery, only to see her freedoms curtailed when the world she fought for finally arrived. Their push and pull has only deepened over the seasons, but even the most hardcore fan would have been hard-pressed to imagine June and Serena driving off together at the end of the Oct. 12 episode. These Handmaid's Tale theories about where Serena and June are going show just how wild a twist this really is.
The title of Episode 6 was "Together." Most assumed this referred to Luke and June, as they were seemingly captured by Gilead at the border, this time together. But it actually may have referred to the episode's ending, in which Serena, driven to desperation, seized the opportunity she had with June and forced her to drive them away at gunpoint... together.
Serena had every reason to be desperate to escape. After two episodes of the Wheelers slowly wrapping her in captivity, Serena realized she was trapped. She couldn't even leave for doctor's appointments, and the one making house calls asked her on a date after inspecting her cervix. And when Serena refused to see her gynecologist romantically, Mrs. Whee;er made it clear Serena must get married; she could not be a single mother. Serena was incredulous. "This isn't Gilead!" she cried. (Which, true, but it is the world she claims to want.)
When Mr. Wheeler told Serena that June had been captured and agreed to allow Serena to go to No Man's Land to witness June's execution, Serena took it as the chance to escape her captors. She asked to be the one to fire the weapon against June, but instead shot her bodyguard/watchdog, Ezra, at point-blank range. She then pointed the firearm at June, told her to get in the car, and instructed her to drive.
So, where are they heading? Here are some ideas.
The Handmaid's Tale Season 5 continues with new episodes streaming on Hulu every Wednesday.