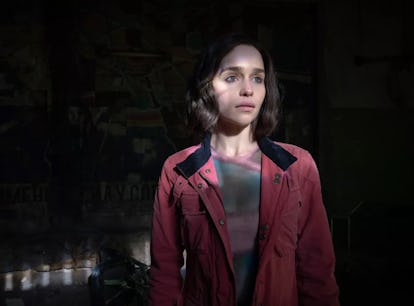 The Disney+ July Lineup Is All About Skrulls, Sharks, & Classic Cartoons
The Secret Invasion finale is almost here.
Disney+
The Marvel Cinematic Universe has never been a more dangerous place than in the franchise's new show Secret Invasion. While the Skrulls can easily blend into whatever environment they want, the thriller series is an obvious standout in Disney+'s July 2023 lineup. Not only will the big finale drop at the end of the month, but Disney+ is also dropping a ton of nature docs and vintage cartoons that you can stream all summer long.
Disney+ is kicking off July with a celebration of the most ferocious sea creatures of all, sharks. The streamer's SharkFest slate drops on July 2, featuring a wide array of documentaries and limited series focused on different types of sharks.
Another fun content collection is also coming just a few days later. On July 7, Disney+ will begin streaming an assortment of beloved Mickey Mouse cartoons that first screened between the 1920s and the 1960s. The collections includes 1929's The Skeleton Dance, the animation of which is partially responsible for the "Spooky Scary Skeletons" TikTok dance trend.
But the biggest show airing on Disney+ throughout July is Secret Invasion, the Marvel series centering on Nicky Fury and his battle to expose the shape-shifting Skrulls who are surreptitiously taking over Earth.
Check out everything streaming on Disney+ in July below.
July 2
SharkFest:
Bull Shark Bandits
Shark Eat Shark
Saved From a Shark
When Sharks Attack 360
Return of the White Shark
Bull Shark vs. Hammerhead
Shark Below Zero
When Sharks Attack…and Why
Shark vs. Dolphins: Bahamas Battleground
July 5
Secret Invasion (Season 1, Episode 3)
Kizazi Moto: Generation Fire
Kiya & the Kimoja Heroes (Season 1, 5 episodes)
July 7
Retro Mickey Mouse cartoons:
Aquamania (1961)
Bath Day (1946)
Building a Building (1933)
Figaro and Frankie (1947)
Goofy Gymnastics (1949)
The Skeleton Dance (1929)
July 12
Secret Invasion (Season 1, Episode 4)
Bluey (10 episodes)
Never Say Never
UFOs: Investigating the Unknown
July 14
Yuzuru Hanyu Ice Story 2023 "Gift" at Tokyo Dome
July 19
Secret Invasion (Season 1, Episode 5)
Grown-ish (Season 5)
Hailey's on It! (Season 1, 5 episodes)
Miraculous Tales of Ladybug & Cat Noir (Season 5, 6 episodes)
SuperKitties (Season 1, 4 episodes)
America's Funniest Home Videos (Seasons 20-22)
July 26
Secret Invasion (Season 1, Episode 6: Finale)
Life Below Zero: Port Protection Alaska (Season 6, 16 episodes)
Me & Mickey Shorts (Season 2, 10 episodes)
Mickey Mouse Funhouse (Season 2, 5 episodes)
Pretty Freekin Scary (Season 1, 7 episodes)
Raven's Home (Season 6, 5 episodes)
July 28
The Slumber Party
The Wonderful World of Mickey Mouse: Steamboat Silly
Don't have Disney+ yet? You can sign up here.