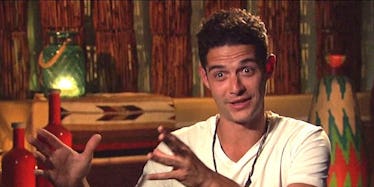 Here's What Wells Is Doing Now That His 'Paradise' Bartending Stint Is Over
ABC
We all thought we'd be tuning into Bachelor in Paradise for the drama and the romance this season, but in actuality, it's been the silliness behind the bar and not the drama in front of it that's been the best part. Paradise brought in a past contestant to serve as the bartender for the first time this season, and the franchise hit a homerun by choosing a fan favorite from last season,Wells Adams, to bring his goofy charm back to the show. In fact, he's doing such a great job offering up drinks with a side of advice that Bachelor Nation is clamoring for him to be the next Bachelor, or even get a spinoff series of his own. While that is still up in the air, fans can still hear from Wells even after the show is over. Here's what Wells is up to after Bachelor in Paradise.
One of the reasons Wells is so good at being entertaining on camera is that it's kind of already part of his everyday life. He's a radio DJ based in Nashville, so anyone in the area can just tune in to get their Wells fix whenever they need. Wells is a host for the rock station 105.9 The Rock in Nashville, where he also hosts a hilarious drunken Paradise recap show called #DrunkSnapchat.
Other than that, there seems to be an intense interest in the franchise fandom to bring Wells back in some way or form. After his hilarious performance as the bartender on this season of Bachelor in Paradise, I feel like there's a pretty good chance he could be back to mixing drinks for a new crop of Paradise-ers next season as well. Plus, he's still tight with a bunch of former Bachelor contestants, as even just one glance at his Instagram will show.
And then of course, there's always the possibility of becoming the next Bachelor. The only possible issue with that are those dating rumors between Wells and Paradise contestant Danielle M. that keep popping up. That announcement is expected to happen pretty soon, so we'll just have to wait and see if Wells gets another shot at televised love.