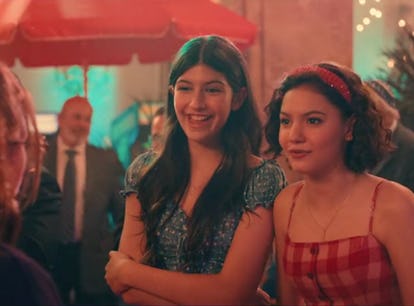 Watch An Exclusive Clip Of Adam Sandler's Daughter's New Netflix Movie
Netflix
Sunny Sandler isn't just becoming a woman in You Are So Not Invited To My Bat Mitzvah; she's also becoming a movie star. Adam Sandler's youngest daughter has showed up in nearly all of her father's movies throughout the 2010s and 2020s, but only in small cameo parts. Now, the spotlight is finally on her with her first lead movie role in the new Netflix teen comedy You Are So Not Invited To My Bat Mitzvah, and Elite Daily has an exclusive first look at the movie.
Based on Fiona Rosenbloom's 2005 YA novel of the same name, You Are So Not Invited To My Bat Mitzvah stars Sunny Sandler and Samantha Lorraine as best friends Stacy and Lydia, who have been obsessively planning their perfect bat mitzvah parties forever. But their celebration plans and their friendship takes a turn for the worse as middle school drama and a popular boy come between them.
In an exclusive new clip from the movie, Stacy and Lydia are still in bestie party-planning mode, as they discuss their bat mitzvah themes while at another party. "OK, I love this carnivale theme, but your Candyland theme is going to be the best of the year," Stacy tells her BFF. "Until your New York theme puts the rest of the school to shame," Lydia excitedly responds.
After giving DJ Schmuley his props, Stacy and Lydia meet up with their friends, who are also discovering the idiosyncrasies of becoming an adult. "My mom actually let me shave my legs this afternoon. First time, so magical," Nicki gushes, before admitting the process hasn't been entirely positive. "It literally burns so bad right now, like somebody wiped wasabi all over my shins."
You Are So Not Invited To My Bat Mitzvah is a full family affair for the Sandlers. Sunny Sandler's IRL dad Adam Sandler will also play her dad in the movie, with her older sister Sadie Sandler playing her character's sister as well. Sunny's mother, Jackie Sandler, will play Lydia's mother.
Get ready for a wild party when You Are So Not Invited To My Bat Mitzvah premieres on netflix on Aug. 25.