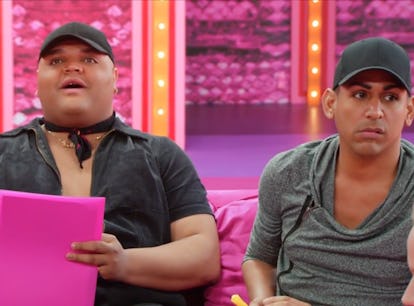 It's Another Epic Rusical Audition Showdown In This New All Stars 8 Clip
This challenge always brings the drama.
No Drag Race challenge can stir the pot like the Rusical. The drag world's version of musical theatre isn't just beloved because it delivers catchy songs, hilarious choices, and endlessly memorable moments on stage — it also causes some of the most iconic fights in reality television. Just ask Bosco and Lady Camden, who took home the MTV Award for Best Fight thanks to their all-out battle over who would get the lead in Season 14's Rusical. And to nobody's surprise, the All Stars 8 girlies are just as belligerent. In the first look at Episode 6 of Drag Race All Stars 8, two queens are forced to face off when neither of them will back down from their desired role.
This time around, it's Kandy Muse and Jessica Wild who are at the center of the dramaturgical drama. After Ru announced this season's Joan Crawford-inspired musical challenge, most of the cast picked out their parts without any issue. But Kandy and Jessica were both dead-set on delivering Crawford's (or, rather, Faye Dunaway's) most iconic line ever: "No wire hangers!" It's understandable, considering that same line had RuPaul in stitches when Alyssa Edwards screamed it in the All Stars 2 Snatch Game.
To decide who gets the juiciest part, the rest of the queens forced Kandy and Jessica into a proper audition. Sadly, the sneak peek ends just before the two aspiring Broadway divas belt into their wire hangers, so you'll have to tune into the new episode to find out who ends up getting the role.
This Rusical already looks like it will be a tense challenge, and it makes sense why that is. So far, All Stars 8 has basically been the Jimbo show, especially after the Canadian clown secured her third challenge win by tap-dancing her way to victory in the Snatch Game. Jessica and Kahanna both have wins, too, but also bottom placements that nearly sent them home. With only a few weeks left in the competition, now is definitely the time for anyone else eyeing the crown to try to shut Jimbo down.
Find out who steals the spotlight when Episode 6 of All Stars 8 streams on Paramount+ on Friday, June 9.