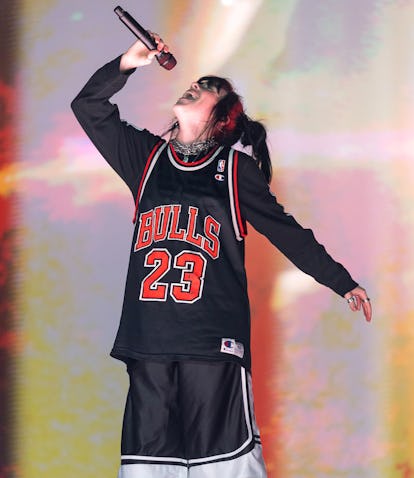 Billie Eilish Dedicated A Special Song To Angus Cloud At Her Concert
Michael Hickey/Getty Images Entertainment/Getty Images
Billie Eilish made sure Angus Cloud's spirit didn't feel so alone at her latest concert. During Eilish's headlining performance at Lollapalooza on Aug. 3, she surprised the crowd by singing her duet with Labrinth, "Never Felt So Alone." The moody ballad was featured in Euphoria, so fittingly, Eilish used the moment to dedicate the song to Angus Cloud, who died just a few days prior.
Eilish had everyone in their feelings when she launched into "Never Felt So Alone" during her Lollapalooza set. The heartbreaking lamentation on loss and isolation was original Euphoria composer Labrinth's own song, which played during Jules' tragic backstory in Season 1 of the series. When he officially released it in 2023, he added Eilish as a collaborator, who fleshed it out with her own verse about suddenly losing a best friend.
It's a more than fitting tribute to Cloud, who was best known for playing the kind-hearted drug dealer Fezco on Euphoria. After somberly singing the final notes of the song, Eilish memorialized Cloud.
"R.I.P. to Angus Cloud, everybody," Eilish shouted. You can watch the performance and shoutout in the clips below.
The performance took place four days after the news broke that Cloud had died at age 25 on July 31. Cloud's family did not disclose the cause of the young actor's death, but noted that he'd been struggling after the loss of his father earlier in July.
It's unclear how close Eilish and Cloud were, but the singer is a special part of the Euphoria universe. She has been featured on the show's soundtrack, and even sparked rumors that she may make an appearance in a future season.
Eilish's tribute to Cloud is one of many stars involved with Euphoria have made since his death. Dominic Fike similarly used his music to eulogize Cloud, reflecting on his friendship with his late co-star in the middle of his concert on Aug. 1. Other members of the Euphoria cast posted lengthy notes remembering Cloud's uplifting spirit, including Zendaya, Hunter Schafer, Sydney Sweeney, and Maude Apatow.