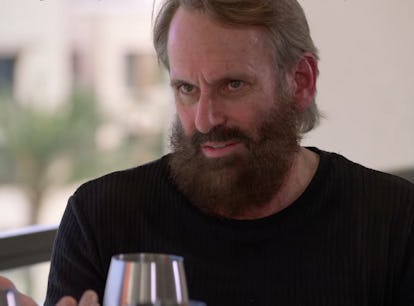 Vanessa's Dad On The Ultimatum Has A Questionable Philosophy About Marriage
So *that's* how Vanessa became... Vanessa.
Netflix
Vanessa may have been something of an enigma at the start of The Ultimatum: Queer Love, but after a few episodes, some parts of her outlook on romance are starting to add up. Really, it was meeting her dad that fully explained why she has such a cynical perception of marriage. The eternal free spirit has been very clear that she doesn't want to get married, even if her partner Xander seems like a perfect spouse, so it totally clicked when Vanessa's dad laid out his own unromantic philosophy on the failings of marriage. The phrase "Like father, like daughter" has never been more true.
Vanessa's commitment issues immediately stirred up a cyclone of controversy right from the beginning of The Ultimatum: Queer Love. Her insistence on never getting getting married but staying with Xander had other contestants accusing her of not being on the show for the right reasons, and threw a major wrench into all the other couples, especially Lexi and Rae. It became clearer than ever how Vanessa became so stalwart against marriage once she invited her father to meet her trial wife, Rae.
Vanessa's dad wasted no time in laying out why he thinks marriage is flawed, suggesting it shouldn't be a lifetime commitment, but one that couples can discontinue after a few years together. "When the institution of marriage started, people didn't live to be 80, 90, like we do now," he said. "They died at 25 or 30, so it wasn't a 'life sentence' in the same way. I've heard people say marriage should be like a lease, like a seven-year lease. At the end of seven years, you decide whether you want to renew it or not. If you don't, you both walk away."
"And this is where I get my idea of marriage," Vanessa chimed in jokingly, but it wasn't really a joke. It seems clear Vanessa shares her dad's fear of being tied down by a romantic partner.
But the revolutionary ideas didn't stop there. Vanessa's dad went on to explain how he also uses this commitment-free philosphy in his dating life. "I'm divorced for 15 years now. I've dated a little bit," he said. "If at the two or three month mark I think that they see a different future than I do, I end the relationship."
His parting words of advice for his daughter in her Ultimatum experience: "Time is so precious. Be selfish." Well, it's not the most romantic bit of guidance, but it's clearly something Vanessa has taken to heart.