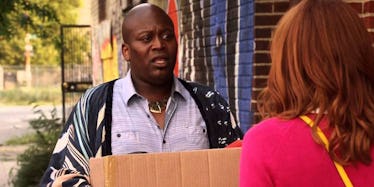 4 Clues From 'Unbreakable Kimmy Schmidt' About What Happened To Titus On That Cruise
Netflix
Praise be to Gosh, because the wacky brilliance that is Unbreakable Kimmy Schmidt is finally back for and even more balls-to-the-walls third season.
The new season is packed with laugh-out-loud jokes, shocking drama, and incredible guest stars who will make you say, "OMG LAURA DERN!" if you're me.
But the new season also introduces a central mystery: What happened to Titus on that cruise?
At the end of last season, we saw Titus leave New York to be in a cruise ship production of Mahogany starring Dionne Warwick.
However, the new season opens with Titus washed up on shore in torn clothes, as he hobbles back to his and Kimmy's apartment months before the cruise was scheduled to end. I've already torn through the first six episodes of the season, and we still don't know what happened!
The show does give us some clues, however! I'm guessing we won't find out what really went down on that cruise ship until one of the final episodes of the season, but some of the hints Titus drops can help us form an idea:
1. He was a big hit in the show.
Titus tells Kimmy that his performance in Mahogany received enthusiastic approval from everyone who saw it, and it even reignited his passion for singing and acting. What that tells us is that Titus must not have voluntarily left the ship early unless something crazy wrong happened.
It also seems unlikely that the passengers would toss him off if they loved him as much as Titus claims they did. Maybe Dionne Warwick got jealous and had him kicked off?
2. He contracts scurvy.
In one episode, we learn Titus now has scurvy due to his time at sea. Did they not have any fruit on the ship? It seems like what went wrong on the cruise was definitely food-related, especially after considering the next two clues as well.
3. He had to eat his paychecks.
When asked where all the money he made from the cruise is now, Titus quickly responds that he had to eat the paychecks he was given. There must have been a food crisis on that ship, or maybe Titus was just adrift at sea for much longer than we thought.
4. He might have become a cannibal.
The craziest thing Titus says about the cruise is a quick joke that he had to resort to cannibalism. He laughs it off, but it definitely feels like there's truth to it.
I'm starting to think that this cruise ship is for Titus what the bunker was for Kimmy: an intensely traumatic experience that he continues to repress. I still have no idea what actually happened on that ship, but I'm hoping to find out by the end of this season.
Season 3 of Unbreakable Kimmy Schmidt is streaming on Netflix now.