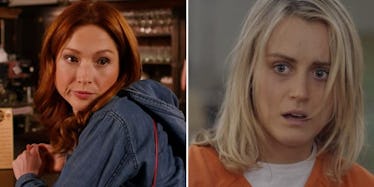 'Unbreakable Kimmy Schmidt' Has An Epic 'Orange Is the New Black' Crossover
Netflix
It turns out, the wacky and vibrant New York City of Unbreakable Kimmy Schmidt and the gritty Litchfield prison of Orange Is the New Black officially exist in the same universe!
And we can all thank one scene from the newly released third season of Unbreakable Kimmy Schmidt for this crazy revelation.
In the fifth episode of the new season, Kimmy (and the FBI) find out that her old bunker buddy Gretchen has followed in the shoes of Reverend Richard Wayne Gary Wayne and started her own cult. At the end of the episode, the police get her and she's taken to prison... a very familiar prison!
The final scene of the episode involves Gretchen getting off the bus at Litchfield prison.
And how do we know it's Litchfield (aside from the obvious straight-from-the-Orange Is the New Black-closet costuming)? Because Gretchen strikes up a conversation with Black Cindy, the actual OITNB character.
Yup, OITNB actress Adrienne C. Moore appears in character as Black Cindy to deliver a couple of lines in the Kimmy Schmidt ep.
From the brief convo, it sounds like Gretchen is ready to start up another cult inside Litchfield, and Black Cindy is interested in becoming a follower.
There may also be a second nod to Orange Is the New Black in the scene, as we see Gretchen compliment another inmate's "Bieber cut." I could be wrong, but I'm thinking that might be a reference to Ruby Rose's OITNB character since she's often confused with Justin Bieber.
Obviously, the crossover scene was just Netflix having a bit of fun with its two shows, but now I'm wondering if Orange Is the New Black is going to return the favor with a small Kimmy Schmidt crossover this season. That... would be very strange.
Season 3 of Unbreakable Kimmy Schmidt is streaming on Netflix now, and Season 5 of Orange Is the New Black premieres on June 9.