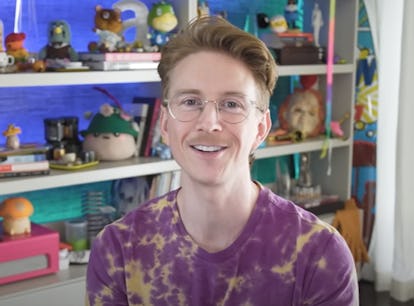 OMG, Tyler Oakley Returned To YouTube After Nearly 2 Years
YouTube/Tyler Oakley
Tyler Oakley is (temporarily) back on YouTube. On Sept. 24, the star uploaded his first video on the platform in nearly two years. He returned to give fans some much-needed life updates since he embarked on a YouTube hiatus in December 2020. The biggest thing Oakley revealed in the new video was his new job: Oakley is a Twitch streamer.
"How do I even talk about this? I feel like I'm cheating on YouTube," Oakley said in his YouTube video where he's wearing a tie-dyed T-shirt featuring the Twitch logo.
Twitch is another video-focused social media platform popular with creators, especially gamers, who livestream themselves. "The possibilities are endless," Oakley said of Twitch. "It feels like a brand new landscape."
Prior to these comments, Oakley began his video by telling viewers what he'd been up to since uploading his last video during the first year of the pandemic. "It was a scary moment. Clearly, we were in a very different place than we are now," he said, adding that so many things have happened in the world since, including Queen Elizabeth II's death and the birth of fellow YouTuber Trisha Paytas' daughter.
As for himself, Oakley said he's recently had a root canal, underwent LASIK eye surgery, and finally went to Lady Gaga's Chromatica Ball. He's also living with his partner and their two dogs. While so many exciting things are happening in his life, Oakley said the most important change was moving off YouTube and onto Twitch.
Oakley showed fans a highlight reel of his Twitch account while explaining the platform. The video featured clips of Oakley playing Fall Guys, Fortnite, and Animal Crossing. He could also be seen wearing various costumes and wigs, eating spaghetti off an action figure, painting, and getting a live haircut in the highlight reel.
"So, clearly, I love [Twitch]," Oakley said. "And I feel like the reason I love it so much is because every day it is allowing my inner child to play and everyone in the chat's inner child to play. Everyone that comes and hangs out, it feels like we all allow ourselves to be silly, stupid messes, and it feels like a safe space."
Oakley said he doesn't know when he'll share his next YouTube video but encourages his YouTube audience to follow him on Twitch where he routinely uploads new videos.
Oakley even outlined his Twitch streaming schedule:
Monday is Animal Crossing.
Tuesday is "cozy games" like Stardew Valley, The Sims, and Bear and Breakfast.
Wednesday is "chaotic community games" like Jackbox Games, Drawy, Among Us, Fortnite, Grand Theft Aut0, and Marbles on Stream.
Oakley can be found on Twitch at twitch.tv/tytyoakley.