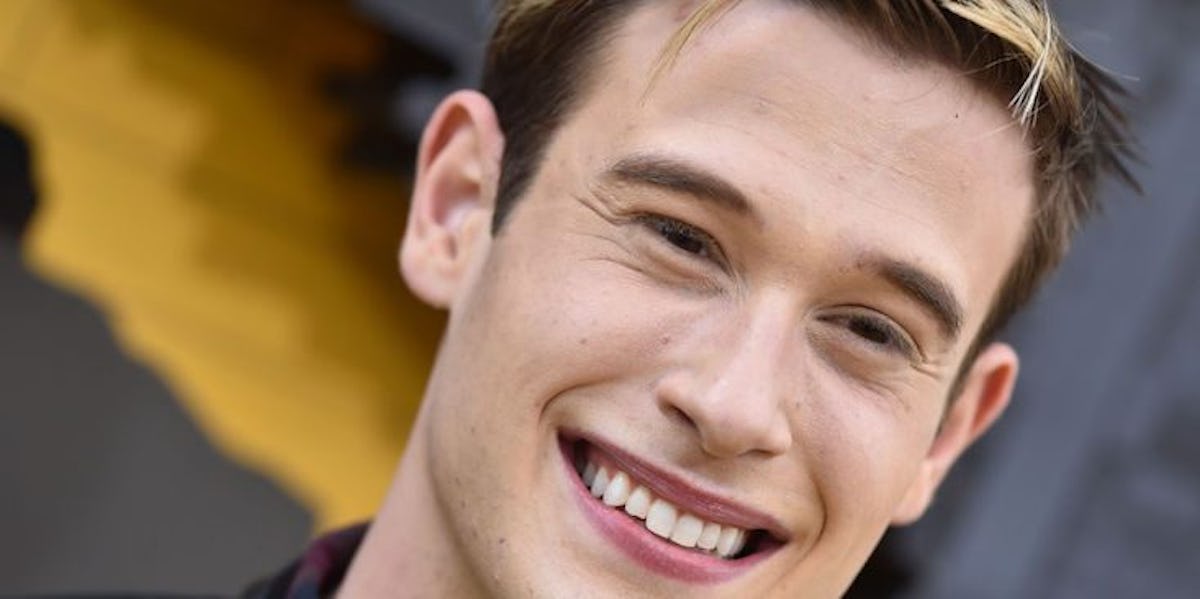 Tyler Henry Talks The Responsibility Of His Gift And How You Can Channel Yours
Getty Images
If you saw him walking down the street in Los Angeles or New York, you'd probably assume Tyler Henry worked in a bookstore.
He has that kind of boy-next-door personality; soft-spoken, respectful and shy, but his day job is far from average. He happens to be a psychic medium for the the stars, and the star of his own reality series, "Hollywood Medium with Tyler Henry."
As a medium, Tyler has the ability to connect with the spirits of the dead and relay messages to their loved ones who are still living.
He describes it as a sort of delivery process. He told Elite Daily,
"I have spiritual guides, who help communicate information from spirits who have passed on."
Tyler then passes that information on to others during his readings.
Obviously there are plenty of skeptics out there, and Tyler is understanding of that.
"Skepticism is understandable," he says, "because people really don't understand even what I'm claiming to do. It's good if they can put their skepticism aside and just let me talk."
Elite Daily spoke with Tyler to discuss the third season of his show premiering on May 17 on E! and to ask a few questions about his unique gift.
His history of communicating with the dead.
Henry first started experiencing his gift at the age of 10, when he woke up suddenly in the middle of the night with the premonition that his grandmother was going to pass away.
"I had a premonition that we needed to say goodbye to my grandmother. It just came through as a knowingness," Tyler told ED. From that point on, he worked to refine his gift.
"From the ages of 10 to 13, I had to understand what I was experiencing. I would be talking to teachers and I'd be getting these messages," Tyler explains, which led to him trading readings for tutoring sessions from math teachers who were astonished and healed by his abilities.
"The tutoring paid off,"  Tyler jokes, as he graduated high school at the age of 16.
How his experience has benefitted others.
It also paid off in the sense that it's made him one of the most well-known mediums in Hollywood. Now in the third season of his show, ED asked if there were any readings Tyler was particularly moved by during the process of filming.
"My reading with Alan Thicke and his wife Tanya before his passing," Tyler said somberly. "We struggled with whether or not to air the episode."
Before his death, Alan Thicke sat down with Tyler for a reading, during which Tyler passed on a message from a loved one to have his heart checked. Sadly, Alan never did.
In December of 2016, Alan passed away suddenly. His cause of death was revealed to be a "ruptured aorta" and "stanford type A aortic dissection."
However, Tyler's reading with Alan wasn't without purpose. In fact, it has served as a way for those closest to Alan to heal since his passing. In an upcoming episode, Tyler sat down with Alan Thicke's widow Tanya to view his reading with Alan together.
Tanya said in a statement to E!,
 "This episode is very dear to my heart, it is important for me to share it with all of my husband's incredible fans. All of their love and well wishes have been greatly appreciated through this difficult time. I hope this look into our lives will bring them some peace and closure. Have your tissues ready!"
His readings help others gain closure.
ED asked Tyler what are some of the everyday signs we might be able to pick up on if a loved one is trying to make contact with us from the other side.
Tyler suggested first strengthening your connection to your intuition. He says, "It's a tool we can all use to guide our lives, it's just a matter of strengthening our connection to it." He suggests strengthening this intuition through anything from meditation to prayer to yoga -- whatever quiets your mind and connects you to your intuition.
ED asked Tyler if there is anything specific that he hopes to achieve through the filming of the show, and like a true healer, he responded,
"I just hope that everyone is able to gain something from watching the show, and that those who need it are able to get some closure and some peace in their lives, because by watching others heal, we all heal."