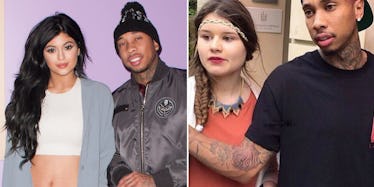 Tyga's Officially Whipped After Getting Kylie's Name Tatted On His Arm
Instagram
Rappers aren't supposed to fall in love. Otherwise, what the hell are they supposed to rap about?
Whether or not Tyga is actually in love with Kylie Jenner, one thing is for certain: HE'S TRIPPIN'.
Getting your girl's name tatted is just never a good idea.
Plus, it's like putting a curse on your relationship, but it's not like these two were planning on having a televised wedding or anything.
This will only add more fuel to the fire of haters out there who are mad Tyga scooped up a baddie... And also the fact that she's 17 and this relationship is technically illegal in California.
While we can't fully confirm this isn't just a Photoshop job, you can kind of see the alleged Kylie tattoo in Tyga's recent selfie.
Looks legit to me. He's now going to have to live with that soon-to-be-mistake for the rest of his life.
The real question is this: Did Kylie reciprocate?
Because if she didn't get Tyga's name tatted anywhere, HE'S SICK.
Citations: Tyga Gets Kylie Tattoo (Complex)