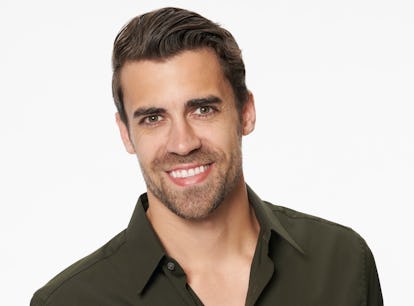 Twitter Thinks This Bach Contestant Looks Like A Million Different Celebs
His doppelgängers apparently include Miley Cyrus and Stefan from The Vampire Diaries.
ABC/Craig Sjodin
Season 18 of The Bachelorette is just getting started, but there's one contestant viewers can't seem to stop talking about, thanks in large part to his looks. While Rick Leach is definitely a certified Good Looking Guy, the reason fans are talking about him is because many people think he looks like a celebrity. But not just any one celebrity — fans think the contestant looks like a whole bunch of famous faces at once. These tweets about Rick from The Bachelorette will have you seeing everyone from Jim Halpert to Joe Goldberg.
At the start of Season 18, Rick definitely made an impression on viewers. On Night 1, he introduced himself to Michelle with the help of a dinner cart. By that, I mean he was the guy who arrived crouched inside a room service cart with his head sticking out of the top. While the limo entrance was more than a little unusual, Michelle was impressed enough to give him a rose on Night 1. But it wasn't until Week 2 that he really caught the eye of Bachelor Nation.
There are a lot of reasons to pay attention to Rick, but viewers are currently extremely here for his looks — not just because they think he's attractive. Based on some very funny tweets, it seems like fans can't seem agree on which famous hottie Rick looks like.
While Bachelor Nation was all over the place in finding Rick resemblances (or "Rickemblances," if you will), there were a few standouts fans kept noting. Lots of viewers thought Rick looked like a brooding vampire, with many pointing to Paul Wesley, who played Stefan Salvatore in The Vampire Diaries.
In addition to looking like an immortal, lots of viewers thought Rick looked like a few characters from The Office, including Jim (John Krasinski) and Ryan (B.J. Novak).
And then there were the wildcards. Everyone from Aaron Rodgers to Joe (Penn Badgley) from Netflix's You to Miley Cyrus to Ben Smith from Season 16 of The Bachelorette were thrown out there, just to name a few.
It seems like everyone thinks Rick resembles someone, but no one can agree on who, and this is absolutely the kind of offscreen drama Bachelor Nation needed.
Season 18 of The Bachelorette airs Tuesdays at 8 p.m. ET on ABC.