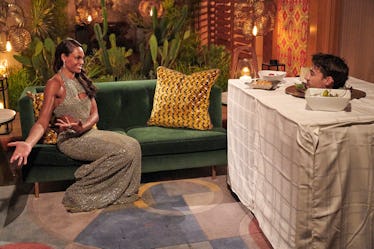 This Bachelorette Contestant Is An Unexpected Frontrunner On Michelle's Season
Even though he terrified Michelle on Night 1.
ABC/Craig Sjodin
There are some Bachelorette contestants who immediately sweep the lead off her feet with their first entrance. And then there are others who go for a more... original entrance. Rick Leach falls in the latter category for sure after he spent most of Night 1 on Michelle Young's season of The Bachelorette crouching inside a dinner cart. But even after that strange entrance, Rick is proving to be a frontrunner early on this season.
When Rick first rolled into this season of The Bachelorette, he showed up with his head on a dinner plate, which kind of freaked Michelle out at first. But it turns out, the dinner cart entrance wasn't a total turn-off. Michelle told the Almost Famous podcast that Rick "won" the first night because he made such a memorable entrance. Michelle's attraction to Rick continued during the first group date in the Oct. 26 episode. He gave her "The Story of Michelle and Rick" and asked her to fill in the blanks of sentences about their new relationship. She said their first date couldn't have been a more "perfect start" and that the chemistry between them was "powerful." After that, they shared a kiss and Rick said he felt like he was "on cloud nine." Things seem to be going really well for these two now, so here's everything you need to know about this contestant who's surprisingly catching Michelle's eye.
Rick Leach's Real Job
Rick is a a 32-year-old medical sales rep who lives in Los Angeles, California. He's studied hard for his career, and is actually even continuing to work toward a higher degree. After graduating from the DeVille School of Business at Walsh University in 2013, he began pursuing his MBA at Loyola Marymount University in 2019. This was all while continuing his work as a sales representative at Bioventus.
Rick Leach's Instagram
Rick is a big family man and his Instagram shows it. He posts lots of photos showing his close relationship with his mom and some tributes to his late dad. He also has an adorable dog named Nana who apparently loves to snuggle, which is an absolute bonus.
Joe also used to work as a model, and so if you scroll back a bit in his Instagram, you get to see quite a few steamy modeling shots.
Rick Leach Facts
Rick is a "self-proclaimed hopeless romantic" and, according to his ABC bio, he's the type of guy who will send flowers to his partner randomly, just to say "I love you." He also says that the movie Hitch taught him everything he needs to know about life... which seems a little odd, since the movie is about a dating coach who teaches men phony tactics to win over women. Hopefully he won't try to use any of those moves to win over Michelle, because it seems like they have a strong connection on their own.
Season 18 of The Bachelorette airs Tuesdays at 8 p.m. ET on ABC.
This article was originally published on