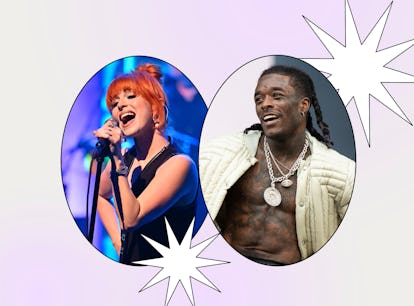 Lil Uzi Vert Is A "Misery Business" Stan Like The Rest Of Us
Twitter is obsessed with this sweet moment.
NBC/NBCUniversal/Getty Images/Joseph Okpako/WireImage/Getty Images
Lil Uzi Vert has always been a self-proclaimed rockstar. Luckily, the rapper won't let fans forget it. They playfully flaunted their rocker persona alongside Playboi Carti in 2017, became one of the mainstream faces of emo-rap, and occasionally rock a spiked hairstyle reminiscent of a mid-2000s Hot Topic teen. Now, they're performing head-banging hits with Paramore. No, this isn't a joke.
Paramore is currently on the North American leg of their This Is Why tour. On May 30, the band performed their second night at Madison Square Garden, and kept fans on their toes with a few surprises. Their largest one came when lead singer, Hayley Williams, invited Lil Uzi Vert to join her on stage to perform "Misery Business." The rapper's sudden appearance shocked the audience, as Paramore has a tradition of inviting random fans from the crowd to sing the track on stage.
As seen in the video, Lil Uzi Vert shyly came on stage as the band (also consisting of drummer Zac Farro and guitarist Taylor York) played the bridge to "Misery Business." Williams then gushed over how sweet the rapper has been to her and the band.
"[We've been] talking for a minute, but this is the first time we've met in person. I love you," Williams said, before giving the rapper a hug. "You've said too many nice things about me. You are so sweet to me and to Paramore, so can we do this bridge again together? And then we're gonna melt their faces off. Alright?"
With ease, the two sang the iconic bridge before bouncing into a series of jumps and dance moves. This onstage moment warmed many fans' hearts, as Lil Uzi Vert has proudly wielded their Paramore stan card numerous times over the years. In a 2017 interview with Apple Music 1's Zane Lowe, the Eternal Atake rapper cited Williams as an influence to their work.
"She's like the best," Uzi said at the time. "It's hard to top that. She's like the best, just of my generation there's nobody, bro."
With high praise such as that, unsurprisingly, fans on Twitter agreed this "Misery Business" moment needed to happen.
Now that's a smile of a dedicated Paramore stan.
Twitter user Noah (@nothingxnoah) pointed out that Lil Uzi Vert's truly in their rockstar era. What's next, an infectious collaboration with Fall Out Boy?
This moment was not on fans' 2023 bingo card.